Simeon 'Candyman' Hardy suffered his first professional defeat Friday night in the quarterfinal of Boxcino 2015 at the hands of Vito Gasparyan.
Hardy (13-1-0, 10 KO) lost unanimously to Gasparyan (15-3-5, 8 KO) in their six-round light middleweight bout at the Mohegan Sun in Uncasville, Connecticut.
The scorecards read 58-56, 60-54, 59-55 in favour of the Armenian born southpaw.
The four-fight card on Friday night seemed to be headed in a disappointing direction when Gasparyan and Hardy, 27 took to the ring. The two men had what could only be described as a light sparring match for two rounds, with Gasparyan looking particularly uninspired.
But the Brooklyn, New York based Hardy proved too inexperienced to press this advantage and Gasparyan, who had been inactive for two years leading into this bout, soon warmed to his work and kept the taller Hardy on the end of his tricky left hook for the rest of the night, winning a well-earned decision.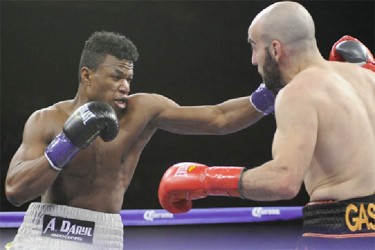 The results of the other three fights on Friday are listed below:
Brandon Adams defeated Alex Garcia by TKO (referee stoppage), Round 5, John Thompson defeated Ricardo Pinell by Unanimous Decision (60-54 x 3) and Stanyslav Skorkhod defeated Michael Moore by TKO (referee stoppage), Round 3.
The semifinal bouts of Boxcino 2015 will take place on April 3 at the Omega Products International in Los Angeles, California.
If Hardy had remained unbeaten throughout the single elimination tournament, he would have earned the vacant NABA and NABO titles, along with a top-10 ranking by the WBA and the WBO. (Emmerson Campbell)
Some information was used from badlefthook.com
Around the Web