Slingerz FC successfully manoeuvered their to path to the semi-final stage of the Mayor's Cup knockout football tourney downing Riddim Squad 2-0 in their quarterfinal matchup on Friday at the Georgetown Football Club (GFC) in Bourda.
Julian Wade and Vurlon Mills were on target for the Vergenoegen side in the eighth and 62nd minutes respectively. With the win, Slingerz FC will now lock horns with Pele FC in the semi-final round after the latter edged the Guyana Police Force (GPF) 1-0.
In what would prove to be a bruising affair, Wade would open the early scoring through a sliding finish into the lower left corner after pouncing onto miscommunication within the defence following  a lobbed right sided cross within the centre of the box.
Nevertheless, Riddim Squad almost leveled the score line in the 37th minute as an Amos Ramsay's effort was intercepted just outside the goal-line by defender Les Charles Critchlow.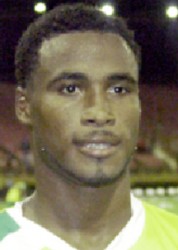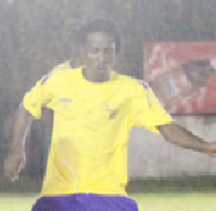 Racing into the right side of the box to receive a ball before the onrushing custodian, Ramsay would lob his effort into the direction of the empty net, only to see Critchlow calmly control the ball with his chest to thwart the danger.
Midfielder Vurlon Mills would then put further distance between the two sides, scoring through a powerful 22 yard right footed freekick from the top of the box, after the ball took a slight deflection off a defender and settled into the right side.
Staring down a two-goal deficit, the Mocha-based side almost pulled one back in the 75th minute as a powerful Ramsay left-footed effort from within the left side of the area, went narrowly over the crossbar.
Joshua Browne would then almost make his presence felt from an attacking perspective in the 83rd minute as he thumped his header wide of the right corner, after receiving a cross from a corner kick within the centre of the box. The earlier quarterfinal showdown of the night saw Pele FC arrest the lawmen. Omallo Williams separated the two sides as he netted compliments of a 22nd minute conversion. The action continues today at the same venue with the remaining quarterfinal fixture.
Around the Web