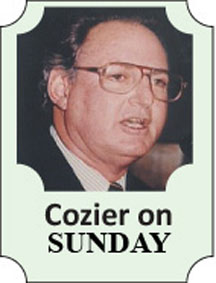 IN their different ways, Chris Gayle's influence in the West Indies dressing room is as significant as his intimidation of bowlers through his sheer physical power and the substantial, 3.37 kilos (seven-and-a-half pounds) of willow he wields.
In both guises, he should be crucial to the team's performance in what is his fourth and final World Cup.
At 35, he is the oldest in the squad. His 21 ODI hundreds are more than any other West Indian, his 8,881 runs second to Brian Lara's 10,405, his 260 matches behind only Lara's 295 and Shivnarine Chanderpaul's 268.
Younger players regard such figures and Gayle's ability to devastate opposing attacks with awe. As such he remains the talisman of a team entering the game's showpiece event over the coming weeks in Australia and New Zealand languishing at No.8 in the ICC's rankings and short of self-belief.
Fully focused on parading his talent for the last time on a global stage as well as demonstrating his positive impact on the coming generation of West Indies players, Gayle's decisive role would be as much as buccaneering opening batsman as motivator and advisor, more especially to new captain Jason Holder, at 23 younger than all those under him and the youngest and least experienced of his World Cup counterparts.
With no leadership of his home team Barbados behind him, Holder was landed with an impossible task when appointed as recently as January. He would immediately have to direct several old hands, among them Gayle, Sammy and Ramdin, themselves all past or present skippers. He needs all the help he can get.
The signs are not encouraging.
Gayle has repeatedly reacted angrily whenever he perceives mistakes and unfairness from the West Indies Cricket Board (WICB) in its dealings with him personally and with other teammates. It caused him to lose the captaincy; it led to an 18-months suspension from the game.
The replacement of Dwayne Bravo with Holder as captain and his omission from the World Cup, along with that of Keiron Pollard, again touched a raw nerve.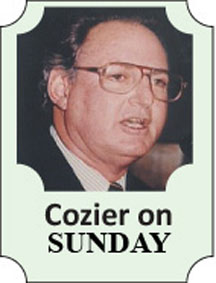 Proving he had lost none of his power in spite of an absence of four months through injury, Gayle blasted 77 off 31 balls (five 4s, eight 6s) in the first Twenty20 against South Africa and 90 off 41 balls (eight 4s, seven 6s) in the second to secure the series for West Indies. He then used the post-match presentation and the media conference to rail against the treatment of Bravo and Pollard.
It was, he said several times, "ridiculous", weakening the team by the omission of two dynamic, experienced players and undermining its chances at the World Cup. He charged "victimization" over their roles in the contentious, premature pullout of the tour of India in October.
Bravo was captain and chief spokesman for the players, Pollard vice-captain. None of the others in India paid such a price; nor did the WICB itself, even after it was held equally culpable by the Task Force it commissioned to investigate the issue.
"Honestly, it throw me off," Gayle declared. How much was evident in the remaining ODIs in South Africa and the two pre-Cup warm-ups against England and Scotland.
His latest scores going into the West Indies opening Cup match against Ireland on Monday are 41, 19, 1, 10, 0, 0 (both first ball), 1.
Commentating on tv on one of his shot-a-ball innings in South Africa, Michael Holding was moved to state: "I'm trying to understand what's happening but I can't."
No professional cricketer can be satisfied with such a slump, no matter how distressed he is over a matter outside of his control. Perhaps the thrill of the World Cup can rekindle his desire.
In the meantime, manager Sir Richie Richardson and chief selector Clive Lloyd, two icons of happier times, have searched for other glimmers of hope.  The well-worn clichés – "a game of glorious uncertainties" and "cricket's a funny game" – have been trotted out.
Presumably in all seriousness, Richardson declared after Monday's crushing warm-up loss to England at the Sydney Cricket Ground that the aim was "not to peak too early"; it overlooked the reality that the West Indies haven't "peaked" for some time.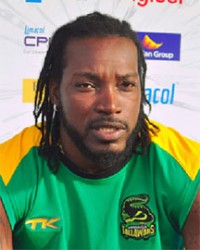 Lloyd accepted the obvious reasons for the long odds against West Indies without going as far as Richard Hobson's assertion in the London Times after their warm-up loss to England that they are "the worst side they (England) will face during their time in Australasia."
Yet Lloyd noted that others have reached their goal after overcoming the seemingly insurmountable problems now confronting West Indies.
In 1983, champions India were as discounted as West Indies are now; they had previously won just one match (over East Africa) in the 1975 and 1979 tournaments. As West Indies captain, Lloyd blamed complacency for costing them their hat-trick of championships.
In 1992, Pakistan had to depend on a point gained from a rained-out match against England to make it to the semi-final, going on to beat them in a full match in the final.
In 1996, no one saw Sri Lanka coming strong from a lowly place to emerge as deserving champions.
In each case, success was based on certain positive factors.
India were swept along by an unmistakable team spirit and self-belief under the leadership of Kapil Dev, the mighty all-rounder.
Pakistan were inspired by their charismatic captain Imran Khan's rallying call to his men to "play like cornered tigers" when they were on the edge of elimination; Imran led from the front, Javed Miandad, Wasim Akram, the fledgling Inzamam-ul-Haq and the others were right behind him.
Sri Lanka shocked opponents with the originality of the opening blast from their openers, Sanath Jayasuriya and Romesh Kaluwitherana, that laid a base for the continuing aggression of the classy Aravinda deSilva and the strong middle order. Like Kapil and Imran before him, Arjuna Ranatunga was the confident, uncompromising leader.
West Indies have no such skipper, no such team spirit, no such confidence. They need Gayle more than ever, as supporter of Holder, as motivator in the dressing room and rebuilder of self-belief with his top of the order aggression.
Around the Web