Athletes from the Running Brave Athletic Club (RBAC) and the Guyana Defence Force (GDF) were the star performers of the second Athletics Association of Guyana (AAG) Development Meet yesterday.
Here are some of the highlights of the event which was staged at the Camp Ayanganna Ground:
2000m 
RBAC's Winston Missingher took control of the event in the second lap and never relinquished the lead. The club's standout then turned on the jets in the final 100m to put an exclamation mark on the impressive showing. Missingher won the race in six minutes and one second ahead of GDF's Odwin Tudor and Larry Nicholas by almost 50 metres.
600m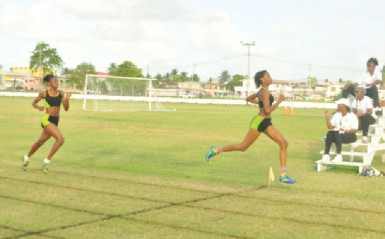 Quacy Clementson led a RBAC sweep of the heat two, leading Missingher and Kristoff Archer across the line in one minute and 22.1 seconds. RBAC's Devon Barrington placed first in heat one.
Multiple CARIFTA Games medalist, Cassey George of Linden, put an end to RBAC's winning streak in the female version of the race but Natricia Hooper and Andrea Foster placed second and third to ensure the club was among the medals.
300m
Hooper shrugged off her second place finish to power across the line and take the top honours of the open 300m female event in 39.1s. Avon Samuels of RBAC placed second in 39.4s.
Akeem Stewart (34.6s) snared the gold medal for GDF in the male version of the event.
150m
His club mate, Devin Fraser also held off his rivals to win the 150m male open.
80m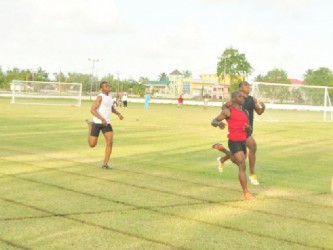 Alisha Fortune also of RBAC showed that she will be the woman to beat as the season progresses. Fortune (9.7s) recovered from an ordinary start to easily win the shortest event of the day ahead of Tirana Mitchell (10.0s) and her club mate, Natrena Hooper (10.2s)
The rapidly improving Maurice Gibson (8.9s) surged in the final 10 metres and came from behind to better his RBAC club mate, Ian Campbell (9.1s) who seemed to sustain a right hamstring injury in the male edition of the event. Devin Collymore placed a close third in 9.2s.
The track and field season continues this Sunday with another Development Meet with regular distances.
Around the Web