Berbician Kelvin Omroa yesterday stole the show with a man of the match performance to help his team hand a hapless Essequibo side a mammoth 177-run defeat in their Guyana Cricket Board U15 Inter County match at the Wales Community Development Centre ground.
Omroa etched his name in the record books with a magical performance which produced figures of eight wickets for six runs from 5.5 overs. For good measure he also threw in a cameo performance with the bat smashing six fours in a knock of 32.
The other bowler to pick up wickets was spinner Seon Glasgow who grabbed 2 for 12 as Essequibo were shot out for 53 in 21.4 overs with Sevon Bess not out 10 and Arnold Adams 11, the principal scorers.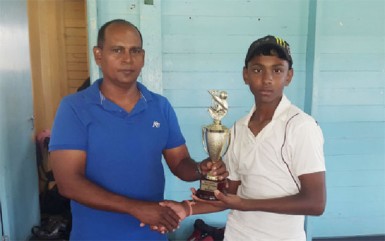 Some nine wickets fell for 27 runs during Essequibo's chase of 230 made by Berbice who were led by Junior Sinclair's 53 from 69 balls an innings which included six fours.
He was supported by Garfield Benjamin who played well for his 43 while Alex Agloo thumped a 39-ball 38.
Essequibo bowled everyone except their wicket-keeper but only managed to reap success from Bomesh Ramdahin 2-40 and Amos Sarwan 2-56.
Essequibo benefited from a handful of runs during their chase after seven runs came from seven wides, courtesy of wayward bowling from the opening quicks.
After a painstaking 13 overs which produced a mere 26 runs, opener Adams was bowled by Omroa.
Next to go was Orlando Jailall (01) who was sent packing by a brilliant reflex catch from Agloo off the bowling of Glasgow. His dismissal then induced a classy piece of glove work from Sinclair who whipped the bails off after Bhumesh Ramkissoon advanced to a delivery which he missed completely from Omroa.
Omroa then found himself on a hat trick when Ramdahin was caught in the covers by Glasgow. Reeling at 28 for 4, Omroa knocked over the stumps of Sarwan for two as four wickets fell for three runs. The wickets continued to tumble with the left-arm spinner continuing his onslaught this time going through the gates of Mahindra Dindyal for six to pick up his fifth wicket.
Sheldon Charles (01) was then bamboozled by a delivery from Glasgow which resulted in another good piece of stumping by Sinclair, as six wickets fell for 13 runs. Bess launched a mini counter attack and struck a few fours, one if which raised the Essequibo 50.
Omroa duly picked up his seventh wicket when he dismissed Kevin Sandiford (01) followed by the LBW dismissal of Persaud (00). The final nail in the coffin was the wicket of Parsarm Singh who was bowled for a duck bringing the innings to an end with more than half the overs remaining.
Earlier, after being sent into bat by the Cinderella County boys, Berbice took full advantage of the good batting surface and fast outfield and most of their top order batsmen reached double figures.
Opener Davindra Somra though was out caught and bowled for a 15 ball duck, leaving the score 25 for 1. However, amends would be made when Benjamin and Sinclair added 77 runs for the second wicket and helped raise the Berbice hundred.
Sarwan struck a double blow by first removing Sinclair, who was caught in the deep and Benjamin, who was comprehensively bowled. The two strikes then allowed Essequibo to pounce on the likes of skipper Kevlon Anderson who struck one four in his 18 before Dindyal had him caught by Bess.
At 147 for 4, Glasgow was bowled by Ramkissoon for a seven-ball duck but Agloo and Omroa  joined forces and took their team's total past 200.
Agloo was aggressive and physically imposed his will onto the Essequibo bowlers as he smashed six fours and seemed on course to notching up a half-century before Ramdahin accounted for his dismissal and had him caught by Esho Persaud.
Omroa continued his innings with Haita Walters (10*) but as trapped LBW by Ramdahin, bringing the innings to an end. Defending champions Demerara will battle the GCB President's XI at the Enmore ground from 9:30hrs today in the tournament's second round.
Around the Web