Fly Jamaica has made it possible for Guyana's premier racquet wielders to compete in the inaugural Jamaica Winter Open International Table Tennis Championships scheduled for next weekend in Montego Bay.
During a simple but significant ceremony yesterday, Marketing Manager of the airline Nadine Hing presented 10 tickets to president of the Guyana Table Tennis Association (GTTA) Godfrey Munroe.
The presentation of the tickets, paves the way for the nation's best table tennis players to make their mark at the championships which serves off on February 27 to March 1.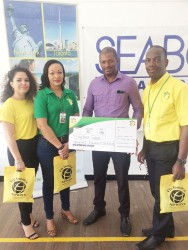 "It is a major contribution" said Munroe. "If you ask any association they will tell you that acquiring tickets is always a major bug bear."
After thanking Hing on behalf of Fly Jamaica, the GTTA head noted that attending the tournament "augurs well for the development of the players". He added that it is of "great importance in ensuring that we are exposing key
players so early in the year."
Munroe then listed the names that will most likely make up the traveling contingent.  According to Munroe, the tickets will most likely go to Miguel Wong, Shemar Britton, Kyle Edghill, Elishaba Johnson, Chelsea Edghill, Trenace Lowe, Paul David, Edinho Lewis, Nigel Bryan and Linden Johnson (Manager/Coach).
The association's president then highlighted that the tournament will attract players from Europe, North America and Caribbean territories.
The event will be held at the Montego Bay Convention Centre. It will be the first major international table tennis tournament in Jamaica in over 12 years.
Around the Web