Defending Guyana Cricket Board (GCB) Under-15 Inter-County 50 over champs Demerara yesterday cruised to their second consecutive win of the tournament when they defeated Berbice by five wickets at the Enmore Community Development Centre ground.
Demerara were indebted to Robin William who scored a half-century in the team's 133-5 replying to the 132 all out made by Berbice.
The right-handed opener stroked a polished 54 from 114 balls with six fours while national U15 batsman Alphius Bookie hit an unbeaten 37 and skipper Ashmead Nedd, a brisk 23 to help guide the side to 133 for 5 in 44.2 overs.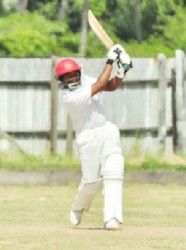 Earlier another collective bowling exhibition by the champs, led by pacer Qumar Torringtton who grabbed 3-24 and two wickets each from Dequan Banfield and Bookie along with Nedd's single scalp helped to contain the Ancient County side.
After Demerara lost Avin Gangadin (03) and Adrian Hinds (02), Williams and Bookie steadied the innings.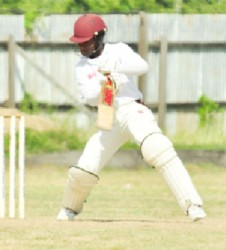 Williams looked solid during his knock and eventually brought up his 50 from 111 deliveries but was run out a few balls after.
Jeremiah Scott (01) and Nedd who was bowled were the other two batsmen to go as Bookie and Chandra Mohan ( not out on one) remained firm and saw the team home with overs and wickets to spare.
Batting first the Berbicians folded after early strikes which saw the likes of Junior Sinclair (03), Brandon Mangal (13), Alex Agloo (02), Andre Bissoondial (04), MVP from the last match Kelvin Omroa (00), Nivendra Persaud (01) and Cheddie Boodhoo (05) all failing.
The pair of Seon Glasgow (12) and skipper Kelvon Anderson, who toiled for his top score of 35 from 107 deliveries with a single boundary, were the only two batsmen to reach significant scores for Berbice.
Over at the Police Sports Club Ground, Eve Leary, Essequibo bounced back from their nightmare loss to Berbice on Monday, to script a 12-run win over the GCB President's XI. Led by Bhomesh Ramdahin's 5-29 and Mahindra Dindyal's 3-25, Essequibo, who had earlier posted a paltry 123 all out in 40 overs after knocks from Orlando Jailall (43), Bhumeshwar Ramdhan (20), ran through the President's XI, blowing them out for a measly 107 in 28.2 overs despite Anil Singh's gutsy 31.
The third round set for tomorrow will see Essequibo go up against Demerara at the Wales Community Centre ground while the GCB President's XI will battle Berbice at Everest Cricket Club ground.
Around the Web