Brenessa Thompson expects to make 2015 a breakthrough year, her final as a junior in a fast improving athletics career, which she boosted with a brilliant run Saturday at the New York Millrose Games.
Thompson blazed the track to easily win the High School girls' 55 meters event before a large crowd of New Yorkers, who braved the freezing cold temperatures, to enjoy the talents of some of the biggest names in the sport at the city's premier indoor competition, at the Armory Stadium.
The 18-year-old Guyanese clocked 6.97 seconds , in an unusual come for behind run to register her second win in the event following success in 2013.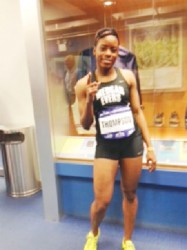 " I had a bad start and had to run from the back, but I am still happy with the win," Thompson stated. Her winning time was two hundreds of a second below her personal best for the distance.
Lanae-Tava Thomas was second in 7.05s and Chanel Brissett third in 7.07s Later in the evening Thompson starred in the 4x200m relay, winning the start leg for the Medgar Evers High School squad which eventually placed second.
Thompson, the school's the stand- out sprinter,   said she hopes to follow in the footsteps of her compatriot and   fellow alumnus Kadecia Baird to win a Junior Carifta Games gold medal for Guyana this year.
"Yes I have the Carifta Games down to do well and better my performance from last year," said the teenager who was sixth in the girls' Under-20 100 metres in 2014.
But before the Easter meet, Thompson plans to cap her High School career with a title win at the United States National High School Outdoor Championships in the summer. She shattered the New York State Schools 100m mark with a second place finish in 2014.
So far the daughter of former Guyana national men's 100m champion Brennon Thompson, is enjoying a successful 2015 indoor season, bagging 55m sprint titles at the Hispanic Games for juniors where she set her personal best 6.95s and at the New York City Junior High School championships when she set a meet record of 7.01s.
Top ranked Guyana 400m sprinter Stephan James, three time Carifta Games gold medalist Jevina Straker and fellow Guyanese Shenika King were also in action in the relays. James, a sophomore at ASA College, anchored his team to third place in 4x200m club relay while Straker's 4x400m team was unplaced.   However, King, a junior at St John's College helped her quartet win the 4x200m event.
The meet attracted international stars including Jamaican-American Olympic Games gold Sanya Richards and long distance legend Bernard Lagat.
Around the Web