Always an advocate for sports and fitness since its inception in 2010, Fitness Express is forever blazing the trail as a perennial benefactor for local disciplines.
This year is no different but the Jamie McDonald-owned entity has embarked on a bold new concept with E Networks to challenge and reward athletes in a grueling test of fitness called Cross-fit.
It is the topic of discussion in every barbershop, gym, fitness circles and even some salons ever since the March 1 event was in its embryonic stages.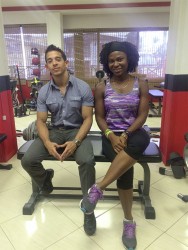 The event's main organizer, Noshavyah King and McDonald sat down with Stabroek Sport yesterday and gave an overview of the first ever Cross-fit Games which will be held at the National Park tarmac.
McDonald, who is passionate about fitness and has attained Cross-fit International level 1 certification, noted that Cross-fit "is a blend of many fitness disciplines."
He noted that Cross-fit incorporates gymnastics, weightlifting, power lifting and cardio respiratory activities like running.
"The prescription for Cross-fit is employing constantly varied functional movements performed at a high intensity against the clock," McDonald surmised.
Not wanting to let the cat out the bag, McDonald then gave a brief insight on what obstacles the 10 teams of four will encounter come competition day.
"There will be five events and event number five will be the final only where the top nine males and three females will proceed to and that will be revealed on the day of competition."
According to McDonald, the tasks for the athletes will include: three rounds for time of the 200m run, kettle bell swings, pull ups, dead lifts, burpees, sit ups (women) toes to bar (male), thrusters and box jumps and a mile run.
It will truly be a test of fitness when activities get underway at 10:00hrs.
The Cross-Fit Games concept is the brainchild of King who noted that for its inaugural run, "we plan on making it special, we want to start out with a bang."
The founder of the Genesis Fitness Gym disclosed that in excess of half a million dollars will be up for grabs for the competitors and even spectators.
"We will have over $500,000 in prizes, we will have prizes also for the spectators so even if you are coming just to watch and you can win something as well."
The athlete placing first will win a trip compliments of Copa Airlines, "of course a trophy and cash prizes" said King.
King who hosts the largest and most successful Zumba parties on local shores then spoke briefly on how the initiative came into fruition.
"There are a lot of different fitness competitions in Guyana and I thought that Cross-fit is probably the only way to truly test your fitness level and I just saw the need because there is nothing like that in Guyana but it is going on all across the world."
She highlighted that plans are in the pipeline to make the initiative an annual fixture on the fitness calendar.
"It's going to be fun, come out and support the athletes" King encouraged.
Tickets for adults is $500 and children are free.
King then disclosed that the environment will be safe for both spectators and competitors.
"We have the Ministry of Health on board, there will be doctors, and there will be a masseuse that will be there also. Safety is our first preference so we will ensure that everyone will be taken care of."
For more information, fitness enthusiasts can visit the Guyana Cross-fit Games on Facebook. (Emmerson Campbell)
Around the Web