A cobra is at its most dangerous when provoked and backed into a corner. As its body rises from the ground, its neck expands and venomous fangs are poised to sink into the flesh of its prey.
The average man would do well not to disturb their slumber, yet Mark 'The People's Choice' Austin 9(1)-8(3)-1 seems all too willing to incite Dexter 'The Cobra' Gonsalves.
Despite going down to Gonsalves 7(4)-1-2 in an eight-round thriller last September, 'The People's Choice' is adamant that come tomorrow night at the Cliff Anderson Sports Hall, he will be well prepared to avenge his loss.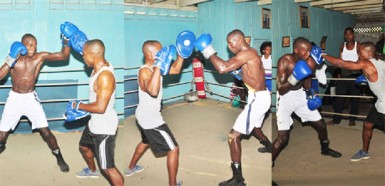 However, Gonsalves who broke down a supposedly poisoned Austin over the course of their initial encounter is confident that his opponent does not possess the antidote for his venomous punches and will eventually succumb in the final rounds of their light welterweight contest.
The Cobra insists he will strike again but will be more impressive in the rematch.
"This will be an easier fight for me because I put in the work. And I will win impressively again", boasted Gonsalves yesterday.
"Not taking anything away from Mark but I know he did not prepare as hard as I did, I was training as if I was the underdog."
Without letting the cat out of the bag, Gonsalves noted that he will stick to the basics but once the knockout opportunity is present, he will take it with both fists.
Gonsalves then told fans to "come out and see the Cobra in action, I'm ready to strike again."
Austin and Gonsalves are the main attraction on the 'Caribbean Collision' undercard on a night headed by the light welterweight title fight between Jamaican, Sakima Mullings (WBC CABOFE welterweight champ) and former world rater and multiple division champion, Clive 'The Punisher' Atwell.
In another rematch, CABOFE middleweight champion Edmond DeClou will square off against national super middleweight title holder, Derrick Richmond in an eight-round middleweight contest. DeClou has not been in the ring since October, 2013 after his career was shelved due to a broken jaw compliments of a left hand from Richmond.
Debutant, Keeve Allicock will lace it up against undefeated prospect, Quincy Gomes in a lightweight fight scheduled for six rounds.
The season premier also features debutants Travis Fraser and Charwyn Estwick matching gloves in a four-round light middleweight contest.
Tickets cost $3000 for ringside and half that amount for regular seating.
Bell time is 20:00hrs. (Emmerson Campbell)
Around the Web