PORT-OF-SPAIN, Trinidad, CMC– Coach of the struggling Trinidad and Tobago Red Force, Gus Logie, is to be called into a meeting with the country's cricket authorities to discuss their participation in the current WICB Professional League.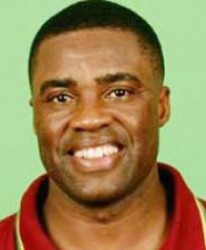 Red Force is languishing almost at the bottom of the table and the Trinidad and Tobago Cricket Board (TTCB) says it wants to meet with Logie to discuss the team's poor performance.
"The thing is we haven't had a formal meeting with him in the last few weeks," said Patrick Rampersad, third vice-president of the TTCB.
"We had a meeting with him prior to the commencement of the (Four Day) Tournament. We were all on the same page as to what we want to achieve and all those things."
The Red Force has suffered heavy defeats away to the Windward Islands Volcanoes and the Barbados Pride, following home losses to the Jamaica Franchise and the Guyana Jaguars.
Their four defeats, lone victory and an incomplete match have earned them just 30 points, sitting above bottom of the table Leewards Hurricanes after the sixth round of matches which ended over the weekend.
"But the last few weeks, he (Logie) has been on the road," said Rampersad.
"We haven't had discussions with him, at least the TTCB hasn't had a formal meeting in terms of discussing the coach per se. But I'm sure it will come up sooner or later, the discussion of the performance of the Trinidad and Tobago team, particularly in the longer version".
Trinidad and Tobago Red Force take on Jamaica Franchise at Sabina Park when matches in the seventh round of the regional four-day tournament begin today.
Jamaica sit above Red Force in the standings on 57 points after three wins, two losses and an incomplete match.
Meanwhile, Trinidad and Tobago Red Force captain Rayad Emrit has returned to lead his side today.
Allrounder Emrit, who has been nursing a hamstring injury, is replacing Jeremy Solozano in one change to the squad which will be playing their third match on the trot outside of Trinidad and Tobago.
On Wednesday, Dudnath Ramkessoon, Cricket Operations Officer of the T&T Cricket Board, announced that Solozano picked up an injury and will not be considered for selection.
Around the Web