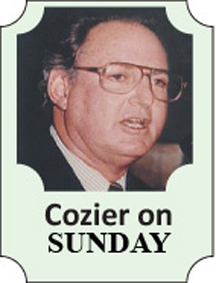 —- Dave Cameron's fondness and frequent use of social media not only displays his arrogance and his belief that he is infallible but it is also behaviour that is unbecoming of a WICB president
By Tony Cozier
WEST Indies Cricket Board president Dave Cameron's fondness for the use of social media has repeatedly revealed his arrogant belief in his own invincibility.
At the height of the team's premature exit from the tour of India in October, for which the Board of Control for Cricket in India (BCCI) pointedly blamed him and his board, he defiantly tweeted: "They've criticised you. They've doubted you. They've lied on you. They've done all they can do, but one thing they can't do is stop you."
As the players finally carried out their forewarning that they would abandon the tour, he used Facebook to state that "it felt like an act of terrorism".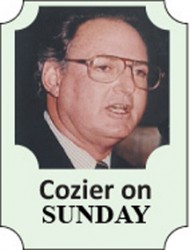 These were publicly expressed opinions unbecoming of a leader of the region's most cherished institution.
His latest venture into cyberspace plumped new depths of depravity.
As West Indies were engaged in a crucial World Cup match against Pakistan in New Zealand, he seized on a tweet from one Gibraun Brijmohan after Gayle was out for 4. "Gayle goes… can't buy a run… let's give him a retirement package… can't fail repeatedly and still front up based on reputation," it read.
Immediately, presumably with a wicked gleam in his eye, the president of the West Indies Cricket Board (WICB), no less, re-tweeted the insult from an ordinary, disgruntled fan to all his contacts.
Gayle has been a thorn in his side over the omission of Dwayne Bravo and Keiron Pollard from the World Cup; it was seemingly his asinine payback.
Like Cameron, Gayle is Jamaican and widely revered, not least in his homeland, as one of the most exciting batsmen of his time. Only his friend, Usain Bolt, is as popular in their homeland; his Twenty20 exploits in the Indian Premier League (IPL) has accorded him cult status across the sub-continent.
He is now passing through the kind of slump that afflicts every cricketer. At 34, it may be terminal but that would be cause for sorrow, not the inappropriate rejoicing of an individual clearly out of his depth in his position of responsibility.
Michael Holding seethed at such crassness on the TV show Match Point on ESPN.
He would not have been the only Jamaican, or West Indian, so incensed; there might now even be second thoughts among those who so readily sprung to Cameron's side at the JCA's annual general meeting last week to overturn their directors earlier, considered choice of Joel Garner over their countryman for the WICB's March 7 presidential election.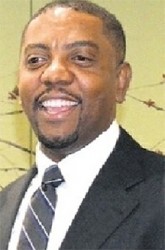 The tussle between the 44-year-old financier from Kingston, seeking a second two-year term, and Garner, the giant fast bowler of the great team of the 1980s, now president of the Barbados Cricket Association has occupied more column inches and air time than even the team's fluctuating fortunes in the simultaneous World Cup.
What eventuates from a room at Kingston's Pegasus Hotel in 13 days will determine the kind of individual to attempt to haul West Indies cricket out of its morass over the next two years. A leader of substance, not bombast and invective, is required
Cameron and Garner, the towering "Big Bird", are poles apart, as much in personality as in height.
Cameron is loquacious, always ready to speak his mind. He is a shrewd operator who has overcome controversy and criticism to get where he is.
Garner is a quiet giant who keeps his cards close to his chest. The one obvious skeleton in his closet in his association's hiring last year, and subsequent firing, of a chief executive who had pleaded guilty to a second-degree felony charge of grand theft in Florida.
Cameron was elected president on March 2013 with the strong endorsement of Jamaica's Prime Minister Portia Simpson-Miller who was "confident that a renewal of West Indies cricket will result under his leadership".
His 7-5 advantage over the incumbent, Julian Hunte, to whom he had been vice-president for six years, reportedly resulted from the two Barbados delegates defying the direction of their association to plump for Hunte, x-ing the ballot for Cameron instead.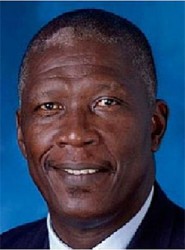 His place as a WICB director goes back over a decade. He was head of the WICB's marketing committee in 2005 when the Irish telecommunications company Digicel won its bid to take over as sponsors of West Indies cricket from its rival, Cable and Wireless.
It was a messy business and the WICB set up a committee, headed by Trinidad and Tobago judge, Anthony Lucky, to investigate all aspects of the deal.
It reported that Cameron had received subsequent financial backing from Digicel to renovate Kensington Club in Kingston, of which he was president.
There had been "representation by persons with allegations of improper inducements which are extremely serious if true"; the committee gave them "no credence" as they presented no hard evidence.
Even so, it took the view that Cameron's decision "to engage Digicel to finance the Kensington Cricket Club renovation was ill conceived and has cultivated suspicion with respect to improper inducements".
Such challenges seem to activate Cameron's combative juices to the extent of creating certainty over his own invincibility.
Hence he has chosen to seek re-election in spite of the WICB's virtual bankruptcy and even though its business is overshadowed by the BCCI's compensation demand for US$42 million for unplayed matches on the abandoned India tour.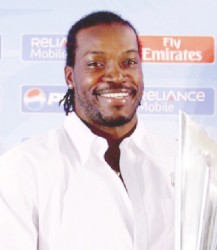 He contends that the WICB has adopted all the recommendations of the Task Force it established to report on the reasons for the India tour fiasco yet conveniently ignores its censure for the late presentation of contracts to the players.
"There is something fundamentally wrong in sending a team to faraway places with only an historical view of their terms of employment and then to radically change those historical terms after they arrive in that distant place," the Task Force stated. It would not have been clearer.
What he does grab his attention is criticism of his star player on a tweet from some anonymous fan.
Perhaps it is why he is convinced no one can stop him.
Around the Web