KINGSTON, Jamaica, CMC – Jason Mohammed stroked his eighth first class half-century to lead a Trinidad and Tobago Red Force fightback against Jamaica Franchise, on the opening day of their WICB PCL seventh round encounter here yesterday.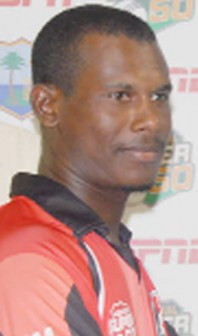 Sent in at Sabina Park, Red Force were slumping at 65 for four when Mohammed arrived to turn around the innings with a knock of 62, and propel the visitors to 277 all out.
Yannick Ottley and Akeal Hosein supported him with 39 apiece while Kjorn Ottley got 35 and wicketkeeper Steven Katwaroo chipped in with 27.
Leg-spinner Damion Jacobs picked up four for 70 while fast bowler Jason Dawes (2-46) and leg-spinner Odean Brown (2-69) both finished with two wickets.
At the close, Jamaica lost Horace Miller for four to be 12 for one in reply, still 265 runs behind on first innings.
Red Force were in trouble as early as the third over of the day with just two runs on the board when Evin Lewis fell without scoring off the third ball he faced.
Left-arm seamer Gavin Brown then knocked over Imran Khan, lbw for 13, to leave Red Force on 20 for two.
Ottley, who struck six fours and a six off 62 balls, added 45 with Yannic Cariah, before both fell in success overs to leave T&T tottering on 83 for four at lunch.
Mohammed then anchored two partnerships to push T&T through the afternoon session, adding 84 with Ottley for the fifth wicket before putting on another 49 for the sixth with Katwaroo.
Mohammed struck seven fours and two sixes off 117 balls in 3-3/4 hours at the crease before being seventh out with the score on 203.
Four quick wickets tumbled for 37 runs to leave Red Force on 235 for nine but Hosein smashed four fours and two sixes in a breezy 54-ball knock to add 42 for the last wicket with Marlon Richards (17).
Scoreboard
T&T RED FORCE 1st Innings
E Lewis c Bernard b Dawes                                             0
Imran Khan lbw b G Brown                                       13
K Ottley lbw b Jacobs                                                35
Y Cariah lbw b Bernard                                                  9
J Mohammed c King b Jacobs                                     62
Y Ottley lbw b O Brown                                             39
+S Katwaroo c King b Jacobs                                      27
A Hosein c Miller b Dawes                                          39
*R Emrit c Blackwood b O Brown                                  5
D St Clair lbw b Jacobs                                                17
M Richards not out                                                        17
Extras (b2, lb6, w3, nb3)                                              14
TOTAL (all out, 72 overs)                                        277
Fall of wickets: 1-2, 2-20, 3-65, 4-65, 5-149, 6-198, 7-203, 8-210, 9-235, 10-277.
Bowling: Dawes 16-7-46-2, G Brown 11-3-47-1, Bernard 11-2-37-1, Jacobs 24-3-70-4, O Brown 10-2-69-2.
JAMAICA 1st Innings
+H Miller lbw b Richards                                               4
J Campbell not out                                                      5
J Blackwood not out                                                       3
TOTAL (1 wkt, 8 overs)                                             12
Fall of wickets: 1-4.
To bat: B King, *T Lambert, D Bernard Jr, C Burton, J Dawes, D Jacobs, O Brown, G Brown.
Bowling: Richards 3-0-7-1, Emrit 2-1-2-0, St Clair 2-2-0-0, Imran Khan 1-0-3-0.
Position: Jamaica trail by 265 runs with nine wickets intact.
Toss: Jamaica.
Umpires: Patrick Gustard, Leslie Reifer Jr.
Around the Web