Jamaica's, Sakima Mullings and Clive 'The Punisher' Atwell are ripped and ready for their WBC CABOFE light welterweight collision this evening at the Cliff Anderson Sports Hall.
Atwell tipped the scales yesterday at a shredded 137.6 pounds while the equally supremely conditioned Mullings crept right under weight limit at a fighting ready 139.8 pounds.
The bout will be the main attraction of the five-fight 'Caribbean Collision' card.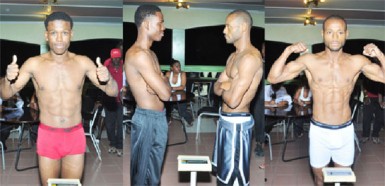 Tonight, Mullings 17(12)-1-0 attempts to keep his win streak which is now at 13 alive while his former world rated opponent will look to snap a two-fight skid.
Atwell 12(7)-2-1 has never lost a professional bout on home soil and will be looking to keep it that way against the hard hitting and stylish Jamaican who has built an impressive resume against local pugilists.
Mullings, 32, from Stony Hill, has defeated Guyanese, Winston Pompey, Howard Eastman, Revlon Lake and Derrick Richmond. Only Eastman managed to go the distance, losing unanimously.
The 25-year old 'Punisher' is far from washed up or lacking the skill level. He is a total contrast to the other local pugilists that succumbed to Mullings. Atwell fought for a world title just last May and has the tools to win in his back yard. Despite his back to back losses, Atwell still serves as Mulling's most significant opponent outside of the Eastman and arguably on paper, the toughest challenge of his career.
A thrilling bout is on the cards.
"A blend of a tremendous main event backed by two grudge matches and some fresh talent" was how President of the Guyana Boxing Board of Control (GBBC), Peter Abdool dubbed tonight's event.
 Grudge matches 
The two grudge matches will involve Mark 'The People's Choice' Austin versus Dexter 'The Cobra' Gonsalves (light welterweight) and Edmond 'Wonder Boy' DeClou against Derrick Richmond (middleweight).
When Austin and Gonsalves fought last September, a winded Austin who took the fight on short notice, was stopped in the eighth and final round.
'The People's Choice' who believes his future is with boxing will be desperate to relaunch his career with an impressive win in the eight-round contest.
"If the knockout comes it comes but I'm going to win this fight convincingly "Austin said at the signing. The Cobra was quick to strike, noting that he has already proven himself against Austin five months ago and that another victory is on the cards.
DeClou has not been in the ring since October, 2013 after his career was shelved due to a broken jaw compliments of a left hand from Richmond.
The CABOFE middleweight champion stated that he will be out for revenge and the scheduled eight-round fight may not go the distance.
 Fresh talent
Debutant, Keeve Allicock will lace it up against undefeated prospect, Quincy Gomes in a lightweight fight scheduled for six rounds.
The season premier also features debutants Travis Fraser and Estwick matching gloves in a four-round light middleweight contest.
Tickets cost $3000 for ringside and half that amount for regular seating.
Note: Fly Jamaica will be giving away two tickets to any of its three destinations: Toronto, New York and Jamaica as part of the myriad of door prizes for lucky patrons.
The other door prizes include a gold cricket band from King's, two cases of Turbo energy drink from Guyana Beverages Inc. and two cases of GT Beer from Banks DIH Limited
Bell time is 20:00hrs. See you there. (Emmerson Campbell)
Around the Web