GROS ISLET, St Lucia, CMC – West Indies Test seamer Kenroy Peters snatched a six-wicket haul to destroy the Leeward Islands Hurricanes on the opening day of their seventh round match here yesterday.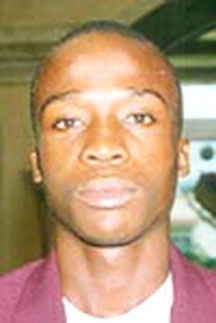 The left-armer, who made his Test debut in the recent South Africa series, ran through the visitors' innings to claim six for 24 as WICB PCL bottom dwellers Leewards were dismissed for 161.
In reply, the Windwards lost two wickets for no runs in the space of seven balls late in the day to finish on 92 for three, to be 69 runs behind heading into today's second day at the Beausejour Cricket Ground.
Sent in, the Leewards got a top score of 38 from captain Devon Thomas, with Gavin Tonge getting 37 and Jeremiah Louis chipping in with 26.
Leewards lost Austin Richards off the day's third delivery for four and left-arm pacer Delorn Johnson picked up his second wicket off the morning when he prised out Sherwin Peters for six, with the score on 28.
Peters then began his show, removing Lyndel Richardson (22), Orlando Peters (3) and Akeem Saunders (0) in quick succession as the Leewards quickly declined to 65 for five.
Tottering on 97 for eight, the Leewards were bailed out by a 62-run stand between Tonge and Louis, who played bravely to hold off the Windwards bowlers.
The Windwards were then given a good start by the in-form pair of Tyrone Theophile (34) and Devon Smith (33) who added 59 for the first wicket.
They were cruising at 88 for one when Smith and Johnson Charles (0) fell in successive overs as the innings stuttered.
Scoreboard
LEEWARDS 1st Innings
A Richards c Bobb b Johnson       4
L Richardson c and b Peters        22
S Peters c Ambris b Johnson          6
*+D Thomas c Matthew b Peters 38
O Peters c Charles b Peters           3
A Saunders lbw b Peters                    0
R Cornwall c Charles
b Shillingford                               14
J Louis c and b Matthew            26
Y Leonard c sub (D Polius)
b Peters                                         5
G Tonge c Smith b Peters               37
Q Boatswain not out                        1
Extras (b1, lb3, nb1)                       5
TOTAL (all out, 60 overs)       161
Fall of wickets: 1-4, 2-28, 3-47, 4-65, 5-65, 6-91, 7-91, 8-97, 9-159, 10-161.
Bowling: Johnson 8-1-20-2, Matthew 12-0-46-1, Peters 15-4-24-6, Shillingford 15-4-39-1, Bobb 7-1-15-0, Sebastien 3-0-13-0.
WINDWARDS 1st Innings
T Theophile b O Peters                34
D Smith c Saunders b S Peters    33
J Charles b Cornwall                  18
K Peters not out                               3
C Emmanuel not out                        1
Extras (lb2, nb1)                         3
TOTAL (3 wkts, 26 overs)         92
Fall of wickets: 1-57, 2-88, 3-88.
To bat: *L Sebastien, S Shillingford, A Bobb, +S Ambris, M Matthew, D Johnson.
Bowling: Louis 2-0-6-0, Tonge 5-0-30-0, O Peters 7-1-21-1, S Peters 5-2-14-1, Boatswain 4-0-11-0, Cornwall 3-1-8-1.
Position: Windwards trail by 73 runs with seven wickets intact.
Toss: Windwards.
Umpires: N Duguid, Z Bassarath
Around the Web