CHRISTCHURCH, New Zealand, CMC – West Indies took a giant step towards banishing the painful memory of their shock defeat to minnows Ireland, by producing a magical all-round performance to hammer a sloppy Pakistan by 150 runs and pick up their first win of the ICC Cricket World Cup here yesterday.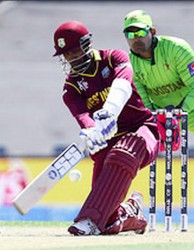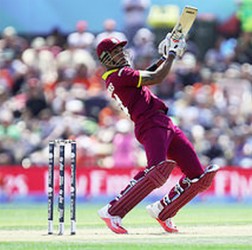 Sent in at Hagley Oval here, West Indies overcame another stuttering start to blast their way to 310 for six off their 50 overs – their second successive 300-plus total – with wicketkeeper Denesh Ramdin and Lendl Simmons striking up tempo half-centuries.
Ramdin top scored with 51 from 43 balls with seven fours while Simmons was run out off the very last ball of the innings for exactly 50 from 46 balls, after gathering four fours and two sixes.
The innings was given a fitting climax by the powerful Andre Russell who pummelled an unbeaten 42 off just 13 balls. He crunched three fours and four massive sixes, adding an exhilarating 51 off 17 balls for the sixth wicket with Simmons.
All told, West Indies gathered 115 runs off the last 10 overs.
Along the way, Darren Bravo carved out 49 off 78 balls before limping off the park in the 32nd over with a left hamstring injury, while Marlon Samuels cracked 38, Darren Sammy, 30 and opener Dwayne Smith 23.
In reply, Pakistan were stunned by outstanding speedster Jerome Taylor, to be all out for 160 off 39 overs. The Jamaican snatched three early wickets to leave the Pakistanis four wickets down with just one run on the board in the fourth over.
They were tottering further at 25 for five in the 11th over before Sohaib Maqsood and Umar Akmal combined in an 80-run sixth wicket stand to prevent an embarrassing collapse.
Akmal hit 59 from 71 balls and Maqsood, 50 from 66, and were two of only three batsmen to reach double figures, with the dashing Shahid Afridi chipping in with 28.
Seamer Russell followed up with a haul of three for 33 to claim Man-of-the-Match honours while left-arm spinner Sulieman Benn, in for his first game, finished with two for 39.
The victory lifted West Indies to second in Group B behind leaders India while Pakistan remained rooted to the bottom without a win.
Desperately needing a victory to boost sagging morale, West Indies suffered another dodgy start when they lost openers Chris Gayle and Smith cheaply to be 28 for two in the eighth over.
The left-handed Gayle fell in the fifth over for just four, top-edging a swing at seamer Mohammed Irfan to Wahab Riaz at long leg, with the score on 17 for one.
Three overs later, Smith edged pacer Sohail Khan to Haris Sohail at slip, after striking four fours, to leave the Windies in a spot of bother.
Helped by ordinary out-fielding that saw no less than four catches put down, West Indies then rebounded first through Bravo and Samuels who put on 75 for the third wicket to revive the innings.
The left-handed Bravo struck three fours while Samuels faced 52 deliveries and played with abandon for his four fours, before holing out in the deep in the 25th over off left-arm spinner Haris Sohail at 103 for three.
Bravo and Ramdin then gathered a prudent 49 for the fourth wicket to keep West Indies ticking along at nearly five runs an over. The left-handed Bravo lived a charmed life, given out on 14 in the 15th over to a catch at the wicket off leg-spinner Afridi before suffering a reprieve on review, and was then dropped on 46 at square leg by Afridi, after fiercely pulling Haris Sohail in the 29th over.
He was forced to abort his innings soon after, pulling up after taking a quick single.
His absence did little to impede the momentum of the innings as the in-form Simmons joined Ramdin to add a further 42. Soon after raising his seventh ODI half-century, Ramdin holed out in the deep in the 40th over off left-arm spinner Haris Sohail.
However, Sammy clobbered three fours and a six off 28 balls, putting on 65 for the fifth wicket with Simmons, before Russell and Simmons finished off the innings in style.
Russell was belligerent, smashing three sixes off Sohail Khan in the penultimate over of the innings which leaked 22 runs.
Taylor then gave West Indies a dream start, removing Nasir Jamshed and Younis Khan in the first over of the Pakistan innings, both without scoring.
The left-handed Jamshed lobbed a pull off the second ball of the innings to Russell at mid-wicket and four balls later, the dangerous Younis Khan nicked a beauty to Ramdin behind.
In the third over, Haris Sohail squeezed Taylor to substitute Jonathan Carter at backward point to also fall without scoring and when the dashing Ahmed Shezad sliced seamer Jason Holder to Lendl Simmons at gully in the fourth over for one, Pakistan were reeling at one run for four wickets.
Captain Misbah-ul-Haq tried to dig in, facing 21 balls for his seven but edged Russell for Gayle at first slip to take a smart catch moving to his left in the 11th over.
Akmal hit five fours and a six and Maqsood, four fours and a six, as they resisted for 15 overs to offer Pakistan a faint glimmer of hope. However, once Maqsood lifted Sammy's low full toss for Benn to take a brilliant tumbling catch running around from mid-on, the last five wickets perished for 55 runs.
Scoreboard
WEST INDIES
D Smith c Haris Sohail b Sohail Khan 23
C Gayle c Wahab Riaz b Mohammad Irfan 4
D Bravo ret. hurt 49
M Samuels c sub (Yasir Shah) b Haris Sohail 38
+D Ramdin c sub (Yasir Shah) b Haris Sohail 51
L Simmons run out 50
D Sammy c Shahid Afridi b Wahab Riaz 30
A Russell not out 42
Extras (b2, lb6, w14, nb1) 23
TOTAL (6 wkts, 50 overs) 310
Did not bat: *J Holder, J Taylor, S Benn.
Fall of wickets: 1-17 (Gayle, 5 overs), 2-28 (Smith, 7.5), 3-103 (Samuels, 24.1), 3-152* (Bravo, ret. not out), 4-194 (Ramdin, 39.5), 5-259 (Sammy, 47.1), 6-310 (Simmons, 50)
Bowling: Mohammad Irfan 10-0-44-1 (w1), Sohail Khan 10-1-73-1 (nb1), Shahid Afridi 10-0-48-0 (w1), Haris Sohail 9-0-62-2, Wahab Riaz 10-0-67-1 (w4), Sohaib Maqsood 1-0-8-0.
PAKISTAN
Nasir Jamshed  c Russell b Taylor 0
Ahmed Shehzad c Simmons b Holder 1
Younis Khan c wkp Ramdin b Taylor 0
Haris Sohail c sub (J Carter) b Taylor 0
*Misbah-ul-Haq  c Gayle b Russell 7
Sohaib Maqsood c Benn b Sammy 50
+Umar Akmal c Smith b Russell 59
Shahid Afridi c Holder b Benn    28
Wahab Riaz c wkp Ramdin b Russell 3
Sohail Khan c wkp Ramdin b Benn 1
Mohammad Irfan not out 2
Extras (lb3, w5, nb1) 9
TOTAL (all out, 39 overs) 160
Fall of wickets: 1-0 (Nasir Jamshed, 0.2 overs), 2-1 (Younis Khan, 1), 3-1 (Haris Sohail, 3), 4-1 (Ahmed Shehzad, 3.1), 5-25 (Misbah-ul-Haq, 10.3), 6-105 (Sohaib Maqsood, 25.3), 7-139 (Umar Akmal, 31.4), 8-155 (Wahab Riaz, 35.3), 9-157 (Shahid Afridi, 36.2), 10-160 (Sohail Khan, 39)
Bowling: Taylor 7-1-15-3 (w2), Holder 7-2-23-1 (w1), Russell 8-2-33-3 (w2), Sammy 8-0-47-1, Benn 9-0-39-1 (nb1).
Result: West Indies won by 150 runs.
Points: West Indies 2, Pakistan 0.
Man-of-the-Match: Andre Russell.
Toss: Pakistan.
Umpires: Marais Erasmus, Nigel Llong; TV – S Ravi.
Around the Web