The intermittent showers at the Camp Ayanganna ground did little to put a damper on the AAG's third development meet yesterday as several athletes had impressive showings.
Multiple CARIFTA Games medalist, Cassey George underlined her class while usual suspects Cleveland Forde, Alika Morgan and sprinters Tevin Garraway and Elton Bollers set the track ablaze on a rainy day.
Forde made his 2015 track debut with a bang, lapping every competitor except arch rival Cleveland Thomas in the 5000m event. The 'Little Kenyan' finished the race in brisk 16 minutes and 26.6 seconds, about 300 metres ahead of Thomas.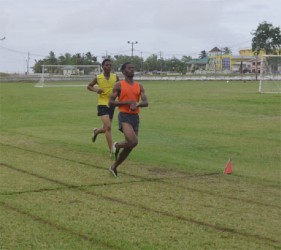 National Schools Championship under-20, 100m record holder, Tevin Garraway made his 2015 debut with a win in the quarter mile event. The diminutive sprinter stopped the clock in 52.3s to finish ahead of GDF's Akeem Stewart who placed second in 53.3s.
Bollers who wasalso making his 2015 debut, clocked 21.2s to win the 200m ahead of GDF's Patrick King who clocked 21.7s.
George showed exactly why she was named the National Sports Commission's Sportswoman and Junior Sportswoman of the year on Friday.
George clocked 4:45.6s in the girl's under-17 1500m, besting her closest competitor Andrea Foster (under 20 athlete) by 14 seconds. George then returned to win 800 metres event in 2:19.9s to punctuate a flawless day on the track.
The resurgent Morgan also performed creditably with a win in the women's 3000 metres clocking 12:27.26s. The distance queen finished ahead of Claudrice McKoy who clocked 12:37.06s for second. One of the standout athletes of the season, Kenisha Phillips continued her impressive run of form yesterday. Phillips who will be a vying a spot on the CARIFTA team, won both the 100 and 200 metres under-17 events.
Ornesto Thomas won the male 1500 metres in 4:11.78s ahead of Kevin Bayley who clocked 4:13.42s to finish a close second.
The CARIFTA Trials is the next event on the AAG's calendar. The fixture will be held at the same venue on March 7 and 8.
Around the Web