Clive 'The Punisher' Atwell 13(7)-2-1 showed a huge fighting heart to score one of the most important wins of his career against highly rated Jamaican Sakima Mullings 17(12)-2-0 Saturday night at the Cliff Anderson Sports Hall.
It was an impressive victory for the fighting pride of Guyana.
Atwell was rocked several times by Mullings who had the size advantage in the WBC CABOFE light welterweight title fight but, as if trying at last to win over the entire Guyanese sporting public, 'The Punisher' refused to crumble against some massive head and body shots in the last two rounds.
Atwell, perhaps a 2/1 underdog, however made it to the final bell to win with a split decision over the hard hitting Jamaican counter puncher.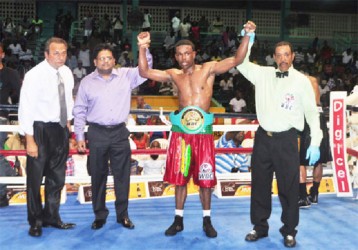 While Trinidadian judge, MacKenzie Granger gave the fight to Mullings 116-113, Jamaican judge, Clifford Brown and Guyana's Francis Abraham, had the local fighter rightly winning 118-111 and 116-112 in the feature bout of the 'Caribbean Collision' card.
Mullings who holds the WBC CABOFE welterweight belt, looked tentative early and allowed the smaller Atwell to dominate at a distance and occasionally on the inside. A huge body punch in round three buckled Atwell but he fought back courageously.
Atwell, 25, was stunned several times during the fight as Mulling, 32, pounded him upstairs and to the body but the former national lightweight champion's speed was too great as he frequently outboxed Mullings behind a stiff jab and occasional combos.
After opening a cut above the left eye of Mullings in round six following an overhand right, Atwell targeted the bleeding area and piled up the points.
Round by round, Atwell was also winning something nearly as important as the fight: the respect and admiration of the bumper crowd who liked what they saw, a smart, skilled fighter who never gave up for a second and put on an entertaining contest. He won long before the scores were announced.
It was a mighty return to the ring for Atwell, whose career was wobbling following back to back controversial losses in Mexico and Australia to WBC featherweight champion, Jhonny Gonzalez and Kye MacKenzie respectively.
So what is next for Atwell?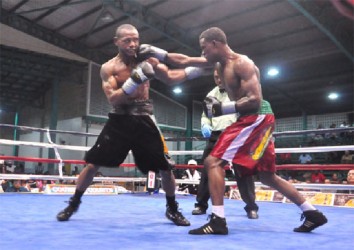 "With CABOFE joining FECABOX, they have ruled that the winner of this fight will face the FECABOX 140 champion, so there is that to consider" said Atwell.
The Punisher who said he would retire had he suffered a third consecutive loss added that he just "wants to be careful" before his next move "as I reshape my mind and everything."
Before being whisked away to the airport, Mullings who was initially preparing to fight Guyana's first world champion, Andrew 'Sixhead' Lewis congratulated Atwell. The reigning 'Wray and Nephew Contender Series' champion also stated that he would like to have a rematch.
 Undercard
In a sleeper, ring rusted Edmond DeClou pulled off an uninspired unanimous decision victory over unskilled pugilist Derrick Richmond in their eight-round middleweight bout. DeClou avenged his loss to Richmond who defeated him after breaking his jaw in October 2013. The three judges score cards read 80-72, 78-74 and 79-74.
Debutant Travis Fraser started off his professional career on a high with a shut out of Barbados based Charwin Estwick. Fraser of Berbice won the light middleweight four-round fixture 40-36 on all three scorecards.
Quincy Gomes however spoiled Keeve Allicock's professional debut with a unanimous victory in their four-round lightweight contest. The judges scored the bout 39-37×2 and 39-38.
In a strange turn of events, Mark Austin's corner was forced to throw in the towel even before a punch was thrown as he fainted in the dressing room prior to his light welterweight rematch with Dexter 'The Cobra' Gonsalves.
Fans must have been disappointed but the door prizes appeased the situation.
Fly Jamaica gave away two tickets to any of its three destinations: Toronto, New York and Jamaica.
The other door prizes included a gold cricket band from King's, two cases of Turbo energy drink from Guyana Beverages Inc. and two cases of GT Beer from Banks DIH Limited. Boxing fans will be looking forward to seeing Atwell in the ring again in the not too distant future.
Around the Web