LONDON, CMC – Former West Indies coach Ottis Gibson says Jason Holder's elevation to the post of captaincy has come too soon.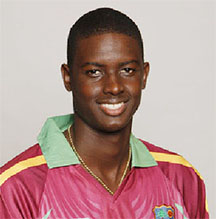 While praising the 23-year-old seamer's ability and potential, Gibson said it would have been best for selectors to allow him to properly develop his talent first without the burden of leadership.
"I think captaincy is too much for him at this point in time," Gibson told Sky Sports prior to West Indies' 150-run win over Pakistan last Saturday.
"I know Jason and he has got the character to elevate himself to captain over time and loves taking responsibility but he has to work on his game at the moment.
"To do that and make sure he is casting an eye in the nets to see how people are performing, sitting in selection meetings, picking players and dealing with media [is difficult], so I am surprised [chairman of selectors] Clive Lloyd has burdened him with the captaincy."
Holder was a shock appointment has captain last December, ahead of the five-match one-day series in South Africa which the regional side lost 4-1.
His turbulent start to life at the head of the squad continued when West Indies were bundled out for 122 to lose by nine wickets to England in the first official warm-up for the World Cup, and sank to new depths when the Caribbean side were stunned by minnows Ireland in their opening Group B game last week.
Gibson, who was axed as coach last August, said Holder would definitely need the support of the senior players in order to succeed in the post.
"Darren Sammy will help him as that's his character but I just hope the other seniors give him the support he needs and go to him rather than wait for him to come to them, as he needs a lot of help," Gibson noted.
West Indies play their third World Cup game when they face Zimbabwe in Canberra today (11:30 pm Monday, Eastern Caribbean time).
Around the Web