Anis Ade Thomas, a gold medal winning powerlifter and accomplished track and field athlete will be pushing his body to further limits when he competes in the inaugural E-Network Crossfit Games on Sunday.
With a deadlift of 683 pounds, a squat of 611 pounds and a best bench of 275 pounds, there is no denying that Thomas is a powerhouse on mission to add Crossfit hardware to his cabinet.
We got an insight on one of the favorites for Sunday's Games after the Berbice-based gladiator sat down with Stabroek Sport over the weekend.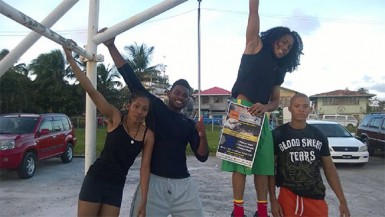 The 25 year-old part time teacher at The School of the Nations, New Amsterdam (biology/chemistry/physics) says he was doing Crossfit exercises as far back as 2001 and was also thinking of someday competing in such events.
 Following is the interview
AAT: Crossfit was the name they came up with in 2007; I started training with Egbert Jackson at Total Fitness Gym Corriverton in 2001 and technically what we did was Crossfit.  And I can remember my conversation with my coach and gym mates from Corriverton that it would be nice to have a competition where we can see who can weight train for an entire day doing multiple workouts.
Part of my training with my coach as an athlete was doing front squats followed by 80-100m sprints for 4-5 sets and I would start puking on my third set. And then here comes Crossfit.
EC: How do you think you will do in your first Crossfit competition come Sunday?
AAT: On Sunday I have no idea what's going to happen; our team has been training as per norm to Crossfit and so far my teammates are killing me (that's a good thing) in the workouts. So how I will do depends on how many pull ups I can do.
According to one of the event's main coordinator and sponsor, Jamie McDonald, the tasks for the athletes will include: three rounds for time of the 200m run, kettle bell swings, pull ups, dead lifts, burpees, sit ups (women) toes to bar (male), thrusters and box jumps and a mile run.
It will truly be a test of fitness when activities get underway at the National Park from 10:00hrs.
The gladiator should fare well since he noted that Crossfit training does not differ much from power lifting training.
AAT: Powerlifting you do more isolated movements focusing individual muscle groups building strength. Crossfit would be doing an entire week of powerlifting training in one day but there is a little more of an endurance factor specifically strength endurance. Training for the two is not that different when you understand the Science of Fitness. Fitness doesn't only involve what you lift. It involves what u eat what you drink what you read and who you listen to. All my knowledge on fitness is a result studying and learning from all sports that contribute to fitness and from a person who has always protected me through my 12+ years of weight training. My Coach Egbert Jackson
Thomas is looking forward to the Crossfit challenge to see if he will have the bragging rights as the fittest man in Guyana.
AAT: I am always fascinated with testing how much stress the human body can take and Crossfit somehow in a very tacky way does test overall fitness and as a Bahai we live by a term "individual investigation of the truth"; so it's not just in our Faith but also in all aspect of our lives.
Jamie and Roger were the only other persons who I know, knew about Crossfit. For me and my team taking part in this event I guess is to know who is the fittest among us four (honestly we did make that bet among us who is the fittest) and also it would be nice to know who is the fittest in Guyana.
The full time student at University of Guyana Berbice Campus studying Biology and Chemistry along with his team is excited for what is up ahead.
AAT: We are just excited about the games. Jeremy Chow just became a father to twin girls so a lot of emotions in him he is actually the most balanced person on our team then there is Timothy McAndrew then Tacina D'Aguiar then me. (Honestly I hate the bodyweight movements)
EC: What is your advice for other athletes about taking up a new challenge like Crossfit?
AAT: I guess my advice is what I have learned from my coach is to be willing to accept failure and also to just have fun with it. Why I say fun, a lot of people may think us powerlifters or athletes to be very strict and serious in training but honestly that's when we have our best laughs.
Here are some facts on the national powerlifter vying for the crown of fittest man in Guyana:
2010 Caribbean Championships held at Princess Hotel, Junior Silver medalist
2012 Caribbean Championships US Virgin Island Junior Gold medalist and Best lifter.
2012 Cayman Island North American Regional Championship Junior Bronze medalist and Open Silver medalist and Junior Commonwealth deadlift record at 654lbs.
2013 Florida Open Caribbean Championships Silver medalist/ Open Pan American Bronze medalist/
Been weight training for 12 years and competing for seven years.
Tickets for adults is $500 and children are free.
For more information, fitness enthusiasts can visit the Guyana Cross-fit Games on Facebook. (Emmerson Campbell)
Around the Web