By Cosmo Hamilton
In a cable from London to the Associated Press in 1897 in response to erroneous news that was being circulated, Mark Twain the lamented American author once said "The report of my death has been grossly exaggerated". On Tuesday February 24, 2015 at the Manuka Oval in Canberra, Australia, out of form West Indies opening batsman Chris Gayle in response to tweets and re-tweets from a fan and his own thoughtless West Indies Board President Dave Cameron, plundered the Zimbabwe attack slamming an ICC World Cup record breaking 215 runs off 147 balls with 10 fours and 16 huge sixes to indicate that he is not yet ready to be retired and that like the news about Mark Twain, in the lingo of nowadays, the tweets about his demise have been grossly exaggerated.
It had been 19 months and 19 innings since the dreadlocked Jamaican lefthander wearing boots with the name 'Gayle Force' had made his last ODI century and the drought continued as he had not scored a half century  in his last eight innings. Meanwhile, the outspoken opener at the conclusion of the recent West Indies tour of South Africa had thrashed the West Indies Cricket Board (WICB) selection panel about the omission of all-rounders Dwayne Bravo and Kieron Pollard from the World Cup squad, a reaction that subjected him to a disciplinary response from the Board.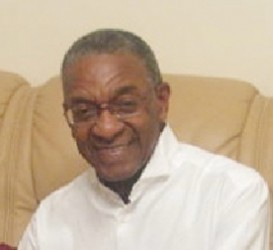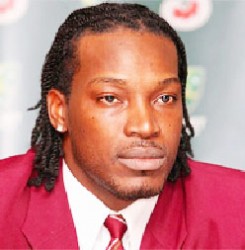 But on this day under a canopy of heavy cloud cover and a steady drizzle Gayle having lost his opening partner Dwayne Smith bowled second ball of the innings by pacer Tinashe Panyangara, and himself benefitting from a close LBW review from the same bowler before he had scored, partnered with fellow Jamaican, the much talented if mercurial Marlon Samuels, shone brightly as he carefully crafted the overture of this command performance with an almost patient first hundred off 105 balls that elicited only a mild acknowledgement to the raucous crowd.
However, the second century was the veritable crescendo. In a breathtaking exhibition of power hitting Gayle in his inimitable style and calm demeanor, orchestrated a complete demolition of the Zimbabwe bowlers who all appeared to be at their wits end to stem the onslaught. Gayle's second hundred came off a mere 33 deliveries. Samuels, meanwhile, determined not to throw his hand away as he has been wont to do, remained the perfect foil for his rampaging countryman, as he at times agonizingly in cruise control absorbed a mountain of dot balls though in the end his 133 off 156 balls was highly commendable.
To put the day in perspective the hapless Zimbabweans who with justifiable excitement did a Panyangara dance at the fall of Smith's wicket with the second ball, had not seen another success until the last ball of the West Indies innings when Gayle in an attempt to break the world record of 16 sixes in an ODI innings now held by himself and South African AB DeVillers, holed out to Elton Chigumbura off the bowling of Hamilton Mazakadza to leave West Indies at a daunting 372 for 2 off 50 0vers.
Much to their credit however Zimbabwe did not wilt under the relentless hammering as they pursued their Duckworth/Lewis target of 363 from 48 overs. Thanks to some loose bowling on a good batting pitch they reached a respectable 289 all out in 44.3 overs, led by Sean Williams who stroked 76 from just 61 balls and Craig Ervine with 52 off 41 deliveries. The benign Windies attack leaked a healthy 6.49 runs per over as the Africans pursued their chase.
The West Indies have now undoubtedly come to the party and are now in it to win it. After consecutive convincing victories over Pakistan and now Zimbabwe and three consecutive team scores of over 300 runs in the last three matches, team spirit is at an all-time high and their confidence level appears to be soaring; opposing teams and commentators who had been previously dismissive of their chances are now taking notice as their performances have garnered due respect.
Besides their next opponent South Africa, having been humbled by India at the MCG must now be questioning their bona fides as a contender, particularly since they will be without key strike bowler Vernon Philander.
Yet as the West Indies strive to transform the Massacre at Manuka into the Sydney Surprise, they must continue their prolific batting, bringing Dwayne Smith to the party. Their bowling attack must be much more penetrative and purposeful than it has been. Needless to say conspicuous by his absence is Sunil Narine. In addition their team fielding must be nothing short of predatory underpinned by the mantra – Catches win matches.
Around the Web