The New GPC will be assisting the Guyana Rugby Football Union (GRFU) financially and with medical supplies as the ruggers prepare for international engagements.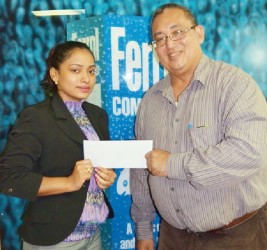 A release from the union, stated that due to the large requirement of medical supplies by the national teams preparing for International Participation this year the GRFU is pleased to inform all that the New GPC Company has come onboard with assistance in the form of a quantity of medical supplies along with a contribution towards its campaign.
A statement was then released by Marketing Executive, Livasti Bhooplall.
NEW GPC INC. an avid supporter of rugby and sport in general, is among a group of sponsors who have faithfully backed the efforts of the Guyana Rugby Football Union (GRFU).
NEW GPC INC. support for GRFU comes in many forms. There are players in the GRFU who are employed with the Company who benefit from paid time off to play in the sport and to represent Guyana.
Cash and other form of support are given to GRFU for putting Guyana ahead, in the global Rugby tournament.
Last year, NEW GPC INC.  honoured the ruggers for their outstanding performance in the NACRA finals.
Around the Web