It requires speed, coordination, aerobic and muscular endurance, experience with Olympic lifts, raw strength, skill, and a healthy serving of guts, determination and power.
All the above will be required today when the inaugural E-Networks Crossfit Games is staged at the National Park's tarmac.
The sum of 36 gladiators will push their bodies to the limit for the right to be called Guyana's fittest male and female.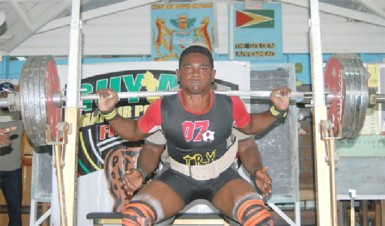 From powerlifters, bodybuilders, track and field athletes to persons who serve in the disciplined forces, these athletes from different backgrounds of fitness will have one thing in mind, winning.
Winning will ensure a historic place in local fitness history for whoever emerges victorious after the grueling series of events.
According to one of the main coordinators and sponsors of the event, Jamie McDonald, the tasks for the athletes will include: three rounds for time of the 200m run, kettle bell swings, pull ups, dead lifts, burpees, sit ups (women) toes to bar (male), thrusters and box jumps and a mile run.
"The prescription for Cross-fit is employing constantly varied functional movements performed at a high intensity against the clock" McDonald surmised.
It will truly be a test of fitness when activities get underway at 10:00hrs.
However, according to Noshavyah King, the athletes will be handsomely rewarded.
King who is the brainchild of the concept locally, noted that for its inaugural run, "we plan on making it special, we want to start out with a bang."
The founder of the Genesis Fitness Gym disclosed that in excess of half a million dollars will be up for grabs for the competitors and even spectators.
"We will have over $500,000 in prizes, we will have prizes also for the spectators so even if you are coming just to watch and you can win something as well."
The athlete placing first will win a trip compliments of Copa Airlines, "of course a trophy and cash prizes" said King.
Anis Ade Thomas, Devon Davis, Alisha Fortune, Joseph Rivera, Ian Rogers, Neetzkiel Yisrael, Dexter DeFlorimonte, Osmond Mack, Nadina Taharally and Paul Meusa are some of the favoured athletes for today's event.
Notable sponsors include E-Networks, Fitness Express, Banks DIH Limited, The Trophy Stall, 704 Sports Bar and Copa Airlines.
See you there. (Emmerson Campbell)
Around the Web