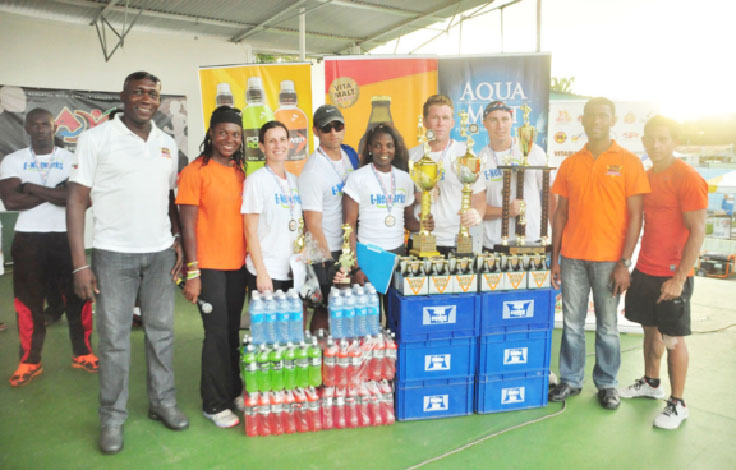 Team USA emerged victorious at the first ever E-Networks CrossFit Games yesterday after defeating a team of the finest male and female CrossFit athletes from Team GDF and seven other squads in front of a vocal crowd at the National Park.
The teams consisting of the fittest athletes on these shores, went head-to-head in a grueling series of workouts, with Team USA coming out on the top, by a final score of 1376-1181.
Team Elite Systems headed by Anis Ade Thomas placed third on 1161 points.
Captained by Joseph Rivera who took the top male trophy ahead of Dillon Mahadeo (CrossFit Bel Air), the elite athletes of the nine teams of four were tested to the limit in a number of demanding feats of physical fitness. They included dead lifts, kettle bell swings, pull ups, box jumps, burps, toes to bar, two-1500m runs, cleans and pushing a wheelbarrow with sand in hot, humid conditions.
In the end, Rivera's team consisting of Tim Lombardi (third overall), Rebecca Moore (second overall female), and Lawrence Fisher (sixth overall male) proved triumphant.
"I think it's wonderful, it's a great event, I'm glad that CrossFit has come to Guyana, it was well organized, the workouts were great," said Rivera who is the Assistant Director of the Humanitarian Assistance Programme at the United States Embassy.
There were a lot of good competitors out there today and I thank the sponsors and Jamie for putting this all together, I had a blast."
The 32 year- old then added that he usually does CrossFit exercises in his workouts six days a week but it was his first time competing.
Meanwhile, 40-year Alisha Fortune proved to be the fittest woman in the Land of Many Waters. The mother of three bested Moore and Nadina Taharally in a battle to the end to pocket the $50,000 first prize, a return ticket from Copa Airlines and gift hampers from Axce Apparel and Banks DIH Limited and one year's bragging rights.
Rivera also was rewarded with the same first place prizes.
Noshavyah King, the brain child of bringing the event to Guyana stated that the Games were a success and that she is excited to see what 2016 brings.
Quick Results
Fittest Male
1) Joe Riviera (Team USA)
2) Dillon Mahadeo (CrossFit BelAir)
3) Tim Lombardi (Team USA)
4) Neetzkiel Yisrael (Top End)
5) Jeremy Chow (Elite Systems)
6) Lawrence Fisher (Team USA)
7) Devon Davis (Team GDF)
8) Anis Ade Thomas (Elite Systems)
9) Lionel Medford (Team GDF)
10) Royston Adonis (Interline Fitness)
Fittest Female
1) Alisha Fortune (Team GDF)
2) Rebecca Moore (Team USA)
3) Nadina Taharally (Interline Fitness)
Many fitness enthusiasts at the venue were overheard saying that they were motivated and will compete in the next edition of the E-Network CrossFit Games.
Around the Web