The basic ingredient for success is simply hard work.
That was exactly what the coordinators of the first ever E-Networks CrossFit Games had to do to pull off the highly successful, entertaining and well organized event on Sunday at the National Park.
Discussion of the games can be heard and viewed everywhere from barber shops, in gyms, the tube, the airwaves, social media platforms and even salons.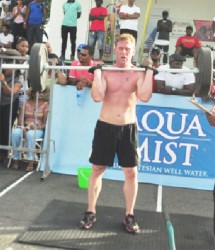 Many debuting events in Guyana have gone awry due to poor planning and coordinating but the inaugural Games was a hit.
From the intrigued spectators to the athletes who went head-to-head in a gruelling series of workouts, there is not much to critique about the first event of its kind in the Caribbean.
Brainchild of bringing the relatively new concept to Guyana, Noshavya King agreed.
During a sit down with Stabroek Sport's Emmerson Campbell yesterday, King answered questions pertaining to the Games and its future.
The interview is below:
EC: What are your thoughts on Sunday's games?
NK: I think the first ever CrossFit Games went exceptionally well. Our sponsors and athletes are happy with the execution. The participation from the athletes and enthusiasm from the spectators is much appreciated by the CrossFit committee.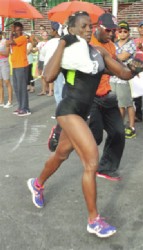 EC: What did you think of the athletes' performances?
NK: The athletes did extremely well given some of them only had a few months to prepare for this event. I am sure they will be coming even stronger next year.
EC: Will you extend invitations to other countries?
NK: This being the inaugural CrossFit Games in Guyana the aim we set out was to raise the awareness of CrossFit training and workouts (that has been achieved). We have discussed extending this event and opening it up to other countries in the future.
EC: If there were things you could have changed what would they be and why?
NK: I wouldn't change anything. We want to grow and get better and the only way that could've happened was to learn from our mistakes. So we are open to make those changes though very few thankfully. The workouts will definitely be different. My team and I will be meeting soon to discuss the entire event and changes if any will be forthcoming.
Many fitness enthusiasts at the venue were overheard saying that they were motivated and will compete in the next edition of the E-Network CrossFit Games. Like the organizers, they will simply have to work hard for success. (Emmerson Campbell)
Results of Sunday Games which determined the fittest male and female in Guyana.
1) Joe Riviera (Team USA)
2) Dillon Mahadeo (CrossFit BelAir)
3) Tim Lombardi (Team USA)
4) Neetzkiel Yisrael (Fitness Paradise)
5) Jeremy Chow (Elite Systems)
6) Lawrence Fisher (Team USA)
7) Devon Davis (Team GDF)
8) Anis Ade Thomas (Elite Systems)
9) Lionel Medford (Team GDF)
10) Royston Adonis (Interline Fitness)
Fittest Female
1) Alisha Fortune (Team GDF)
2) Rebecca Moore (Team USA)
3) Nadina Taharally (Interline Fitness)
Around the Web