Guyana Jaguars opener Rajindra Chandrika believes that despite the table leader's remarkable run this season in the Professional Cricket League (PCL) Regional Four-Day competition, the PCL title was not yet in the bag.
"It's not over until it's over," he told Stabroek Sport in an interview recently adding that similar work needs to be done for the remaining matches.
"We need to maintain the discipline. I don't see us slacking up because every game is vital. We just need to maintain those areas in the bowling and batting departments. I think Permaul (Veerasammy) is the key bowler, his name is all over and he is picking up wickets in every game. We are playing well as a team all round and in the field."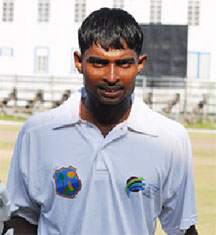 Chandrika said he hopes the team maintains its focus and go on to win the tournament.
"I would like to wish the team all the best and hope they focus and win because it's more than a decade since we won the title and that would be pleasing for me, but we just need to stay positive and continue to win and maintain the lead and remember it's not over until it's over," he declared.
The 25-year-old Chandrika is confident that the team was well placed to win the title that has eluded them for some 17 years and stated that the in-form match winners in the team will fire through to end.
"We have a good batting unit, we have a lot experienced players like Shiv (Chanderpaul). Narsingh (Deonarine) and (Leon) Johnno and if one of these guys don't make it another will. I don't see them all failing everyone has their part to play and they will play it in different innings so that way we don't collapse.
"Shiv leads the batting and although we have a good middle-order, the likes of Permaul (Anthony) Bramble, (Chris) Barnwell and (Raymon) Reifer can handle themselves down the order," he stated.
Speaking about the bowling department which he said has been supporting the batsmen, the West Indies 'A' player said:" I think the bowling is doing well for us in backing up the batting. Permaul is doing well, (Davendra) Bishoo is now catching up with Permaul, (Ronsford) Beaton is doing well up front if he doesn't get wickets he creates pressure and Barnwell and Reifer back up well."
On a personal mission to score his maiden first-class ton before the 2015 season culminates, Chandrika, who has already racked up 324 runs at a decent average of 32.40 from six matches and with solid knocks of 60, 83 and 60 under his belt, is confident that with better application and concentration he can end his 2015 campaign with the century which has been eluding him since 4 day debut back in 2010.
Although he knows the task is easier said than done, the former West Indies U19 player gave a bit of insight into his approach moving forward.
"I think I just have to bat and concentrate and bat deeper sometimes." said the right-hander who addressed his recent short-comings after looking well placed to reach three figures".
"Sometimes you play a shot and you get out but you didn't mean to or expect to so it's about being tighter and playing more responsibly and working from there. Hopefully, during the next three games I can get my first century that is the aim before the tournament ends," declared Chandrika.
Of his favourite innings so far Chandrika said: "The innings in Barbados where we won the game. The innings where we chased the 300 runs was a good game for me. We had a good start and the middle order came in a played well."
However, despite his contribution at the top of the order which set the tone for the successful chase, Chandrika also praised his fellow batsmen who were equal to the task and continue to shine from game to game.
When the Jaguars last met Jamaica they blew them away by 105 runs but Chandrika was not a part of that winning side as he was ill. However, he pointed out that despite not playing in that match he still managed to assess the players and has worked on his approach for the upcoming encounter.
"Last game I didn't play but I had a chance to look at the bowlers, at the moment their batting and bowling is not clicking so I will be looking to build an innings and be watchful when I go out to bat. They also have a young team. We have to play good cricket in the game still but we can use their last few games which they lost to apply pressure. We have an advantage because they are on the back foot and they will be coming in a negative mood but we will still have to play positive cricket."
A student of the Sagicor High Performance Center, the 25-year-old said that there is no secret to his batting form which dates back to the 2014 local senior Inter-County tournaments.
"There's nothing much I can say. When I go in nets I bat as if I'm batting in a game and don't bat to get out. I also try to maintain discipline and keep talking to myself, trying to stay in form and do well. I try to think about the last innings and what I did to make it successful and if I fail I can correct myself after.
"If we have to get two or three wickets more in a match I will start to bat mentally and it helps a lot to prepare before the match. I just prepare mentally before which takes off pressure because you know the ball does a lot of things and you can edge one down the road. I also had some good tips from Shiv from the last couple games, it was good advice from him and it worked."
Table leaders Guyana Jaguars with 102 points take on the out-of-sorts Jamaica Friday at the Guyana National Stadium.
Around the Web