It was the Travis Burnett show in the fourth quarter as Trinity Grid Holdings (TGH) Pacesetters clinched the Guyana Amateur Basketball Federation (GABF) 'Road to Mecca II' Club Championship, edging Colts 85-76 on Sunday.
Trailing 54-56 going into the final stanza at the Cliff Anderson Sports Hall, the diminutive Burnett would explode into action, netting an impressive 16 points in the period as Pacesetters clinched the title.
The skillful point-guard began the one-man show in the opening minutes, netting his side's first eight points through layups as they took the lead at 65-61 after an 11-5 run with 7:43s remaining on the clock. Ruel Ritch also came to the party for Pacesetters during the run, netting a three-point dagger.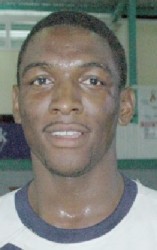 Colts would then pull within one of the score at 71-70 with 3:40s remaining, outscoring Pacesetters following a 9-6 run of their own orchestrated by Dave Causeway and Shelroy Thomas who combined for seven points highlighted by three free throws and two jump shots.
That, however, would prove to be the closest they would get to overturning the score in the final stanza, as Pacesetters raced ahead at 80-74 on the back of a 9-4 spree led by Burnett and Ritch with 1:30s left on the clock
Burnett was once again decisive, netting six points from four foul shots and a layup while Ritch continued his range from beyond the arc at 1:33s. During the same period, Colts would be guilty of wasting critical scoring opportunities as they missed five free throws.
Further daylight would be put between the two sides with 46 seconds remaining as Randy Richardson unlike the Colts, nailed two crucial free throws to go ahead at 82-74.
With less than 20 seconds remaining, Ritch and Travis Williams would put Pacesetters in further command, converting a foul shot each as the fixture neared its conclusion. Burnett for his showing, recorded a game high 28 points while Stephon Gillis netted 19 points.
Ritch would assist with nine points while Richardson and Jermaine Hamilton netted seven points each.
Leading the way for the losers were Thomas and Causeway who netted 19 and 17 points respectively while Haslyn Hooper recorded a double-double of 12 points and 10 rebounds and Niko Fraser shot his way to 10 points and seven rebounds.
With the win, Pacesetters clinched the championship trophy and $400,000 while Colts walked away with $200,000.
Former champs Dyna's Ravens clinched the third place position, crushing last year's runners-up Retrieve Raiders by a 72-51 score line.
Jermaine Slater led the Georgetown unit with a double-double of 18 points and 10 rebounds. He was supported by Marlon Rodrigues and Darwin Lewis who chipped in with 10 and nine points correspondingly and Akeem Kanhai and Rodwell Fortune who netted seven points apiece.
Keon Cameron led the Linden unit with a game high 19 points while Stephan Tappin registered 12 points, eight blocks and nine rebounds and Sheldron Noel nine points. With the win, Dyna's Ravens walked away with $150,000 while Retrieve Raiders pocketed $75,000.
Prior to the commencement of the main fixtures, Eagles defeated Masters 65-28 in an exhibition encounter.
Around the Web