The Guyana national men's basketball team will begin preparations today for their upcoming international series against Bermuda with morning and evening sessions at the Cliff Anderson Sports Hall, Homestretch Avenue.
Guyana will host Caribbean Basketball Championship (CBC) rival Bermuda in a three-match series beginning March 11.
The second fixture will be contested March 12 while the final engagement will occur on March 14.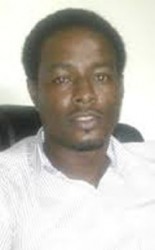 The previous meeting between the two sides at the 2011 CBC Championships in Bahamas resulted in a Bermuda victory by a 68-58 score line.
Guyana finished in seventh place at that championships while in the 2014 edition of the tourney held in the British Virgin Islands, the local side finished 5th.
Questioned about the criteria that was used to select the training squad, Head-Coach Darcel Harris, in an invited comment, said while several players were shortlisted, the performances of players during the recent Guyana Amateur Basketball Federation (GABF) Road to Mecca II tourney was also used as a guide.
"Trials will not be a walk in the park," Harris said adding that several aspects of the sport will be taken into consideration for roster selection inclusive of defensive and offensive capabilities, player chemistry and attitude as well as understanding of the coaching philosophy among others.
Asked about his thoughts on Guyana's chances, he said: "Given the fact we are home, we must come out victorious. It's always difficult to assess the opponent when you haven't seen them play before, but we have to quickly adapt and adjust to their play once we see their style in the first couple minutes.
"We also need to play an up-tempo style because more than likely they will be taller."
Around the Web