CANBERRA, (Reuters) – South Africa put one foot in the World Cup quarter-finals by batting past the 400-run mark for the second successive match to hand Ireland a thumping defeat by 201 runs with five overs to spare at Manuka Oval yesterday.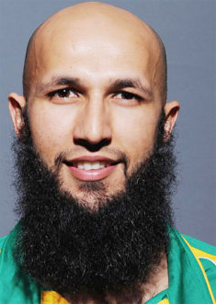 Hashim Amla hit his highest one-day score with a majestic 159 and Faf du Plessis grabbed a century to drive the Proteas to 411 for four before Ireland, despite some stiff resistance from their middle and lower orders, were dismissed for 210.
The Irish were unbeaten in the tournament coming into this Pool B clash but were simply outclassed in all departments by the in-form South Africans, who crushed West Indies by 257 runs in Sydney on Friday.
That victory had been set up by AB de Villiers' 162 in a total of 408 for five but on Tuesday it was opener Amla who led the way as South Africa fell just two runs short of the World Cup record innings tally.
The record would surely have fallen had Irish off-spinner Andy McBrine not removed Amla and de Villiers (24), the two top-ranked batsmen in the world, in three balls in the 42nd over.
Amla had been dropped on 10 and should have been run out on 104 but otherwise batted with his trademark calmness and at one stage it looked like he would match Chris Gayle's double century on the same pitch last Tuesday.
As measured as his captain de Villiers is explosive, Amla reached his 20th one-day century at a run-a-ball in a partnership of 247 with Du Plessis — a record second-wicket stand for South Africa.
The 31-year-old's 159 came off 128 balls and he had hit 16 fours and four sixes by the time he holed out to Ed Joyce in the deep, 36 overs after the former England batsman had dropped him at midwicket off Kevin O'Brien's first delivery.
Amla has scored his 20 one-day centuries in fewer innings than any other batsman, taking 108 knocks compared to the 133 it took India's Virat Kohli to reach the mark.
Du Plessis made his 109 from as many balls for his fourth ODI century, while Rilee Rossouw confirmed his fine form with a second successive quickfire innings of 61.
Ireland's renown as a side capable of chasing big targets was always going to be sorely tested by a South African bowling unit led by Dale Steyn, who took 2-39 in his 100th one-day international.
The paceman, bowling at speeds approaching the 150 kph mark, picked up two early wickets and Kyle Abbott pitched in with three to reduce Ireland to 48-5 in the 11th over.
Andrew Balbirnie and Kevin O'Brien stopped the rot with a 81-run partnership that ended when the former was caught in the deep by Rossouw off Morne Morkel for 58.
O'Brien batted on as de Villiers gave all but three of the team a bowl but departed for 48 when Abbott (4-21) returned to claim his first four-wicket haul in one-day internationals.
SCOREBOARD
South Africa Innings
H. Amla c Joyce b McBrine                                     159
Q. de Kock c Wilson b J. Mooney                                 1
F. du Plessis b K. O'Brien                                            109
A. de Villiers c N. O'Brien b McBrine                        24
D. Miller not out                                                        46
R. Rossouw not out                                                       61
Extras (b-1 nb-3 w-7)                                                       11
Total (for 4 wickets, 50 overs)                                  411
Fall of wickets: 1-12 Q. de Kock,2-259 F. du Plessis,3-299 H. Amla,4-301 A. de Villiers Did not bat: F. Behardien, D. Steyn, K. Abbott, M. Morkel, I. Tahir Bowling J. Mooney 7 – 2 – 52 – 1(nb-2 w-1) M. Sorensen 6 – 0 – 76 – 0(nb-1 w-6) K. O'Brien 7 – 0 – 95 – 1 G. Dockrell 10 – 0 – 56 – 0 P. Stirling 10 – 0 – 68 – 0 A. McBrine 10 – 0 – 63 – 2
Ireland Innings
W. Porterfield c du Plessis b Abbott                           12
P. Stirling c de Kock b Steyn                                          9
E. Joyce c Amla b Steyn                                                 0
N. O'Brien c Amla b Abbott                                          14
A. Balbirnie c Rossouw b M. Morkel                          58
G. Wilson lbw b Abbott                                                    0
K. O'Brien c Rossouw b Abbott                                    48
J. Mooney b de Villiers                                                 8
G. Dockrell b M. Morkel                                              25
M. Sorensen c de Kock b M. Morkel                           22
A. McBrine not out                                                     2
Extras (lb-3 w-9)                                                          12
Total (all out, 45 overs)                                                210
Fall of wickets: 1-17 P. Stirling,2-21 W. Porterfield,3-21 E. Joyce,4-42 N. O'Brien,5-48 G. Wilson,6-129 A. Balbirnie,7-150 J. Mooney,8-167 K. O'Brien,9-200 M. Sorensen,10-210 G. Dockrell Bowling D. Steyn 8 – 0 – 39 – 2 K. Abbott 8 – 0 – 21 – 4(w-1) M. Morkel 9 – 0 – 34 – 3(w-3) I. Tahir 10 – 1 – 50 – 0 F. Behardien 2 – 0 – 13 – 0 R. Rossouw 2 – 0 – 13 – 0 F. du Plessis 4 – 0 – 30 – 0(w-1) A. de Villiers 2 – 0 – 7 – 1 Referees Umpire: Steve Davis Umpire: Ranmore Martinesz TV umpire: Ian Gould Match referee: Roshan Mahanama Result: South Africa won by 201 runs.
Around the Web