Mohamed's Enterprise continued their long standing support of the Kashif and Shanghai Football Tourney, donating the first place package of $2,000,000 and the championship trophy at a simple ceremony hosted at their Lombard Street locale.
Co-Director of the Kashif and Shanghai Organization Kashif Mohammed said the entity has been a part of the event for 24 years and that the organization is extremely grateful for the contribution and commitment each year from their oldest patron.
He further said preparation has been progressing fairly well and that the organization has had several meetings with key stakeholders inclusive of the referees and medical personnel to date.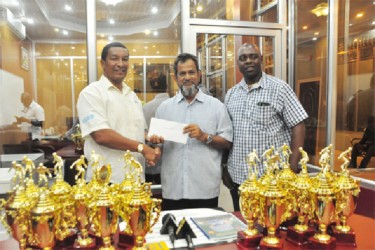 Nazar Mohamed, proprietor of the establishment said it was a pleasure to be a contributor of the tourney while noting he has a personal attachment to sports and the community of Linden. He added that the tourney is very important to the company and as such, it was a pleasure to sponsor a prize.
The event which is set to commence on March 20th and conclude on April 5th, will feature 16 clubs from various associations competing in a traditional knockout format.
Participating in the event are Alpha United, Pele FC, Western Tigers, Riddim Squad, Ann's Grove, Georgetown Football Club (GFC) Fruta Conquerors, Victoria Kings, Mahaica Determinators, New Amsterdam United, Slingerz FC, Den Amstel FC, Grove Hi-Tech, Agricola Red Triangle, Winners Connections and High Stars FC.
Winner of the event will receive the championship trophy and $2,000,000 while the runners-up will collect $1,000,000 and the respective title. The third and fourth placed teams will receive $500,000 and $250,000 respectively with the corresponding accolade.
Additional sponsors of the event include Ansa McAl under is Stag Beer Brand, Demerara Distillers Limited under its Pepsi Brand, Church's Chicken, Cell Phone Shack under its Plum Brand, Hits and Jams Television, Sonic Business Services, Club 704 and JGS Telecommunications.
Around the Web