National `A' class champion Khemraj Pooranmall got the better of his arch rival Jiaram to win last weekend's Open Mashramani draughts competition held at the National Gymnasium, Mandela Avenue.
Pooranmall ended the round robin tournament with nine points one point ahead of Jairam whose brilliant victory over Mark Braithwaite in the final round just failed to land him the title. He ended on eight points.
Third place went to Steve Bacchus who defeated Braithwaite on the tiebreak to claim the spot.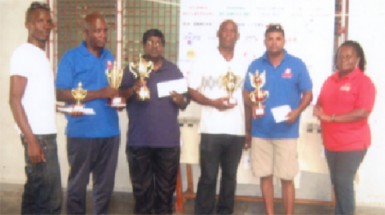 Braithwaite was fourth, Esan Anderson on six points fifth.
The top five players were awarded trophies and monetary incentives while Pooranmall 's prize also included a hair style from Kevin's Reflections.
In the school category, Cordel Nunes of New Campbellville Secondary School was the winner of the junior category which was contested by participants from three secondary schools, St. Joseph's High, New Campbellvile and Queenstown Secondary Schools.
Nunes defeated his peers to finish as the winner with St. Joseph's Alan Kishun second, Darrel Jones of New Campbellville, third and Kevin Clarke of Queenstown Secondary fourth.
Ahead of the tournament, President of the GDA Jiaram, during his opening speech encouraged the junior players to continue playing the game. "…Continue to play the game even after leaving school", he advised the young players.
He then added draughts can allow your mental facets to be active. "Draughts is a mind game, it helps to increase your mental ability, to think and act in a more positive way. Whilst one wrong move can cost you the entire game; in reality one mistake can hamper your entire livelihood. Draughts teaches you to think smart and act smart", he informed.
All the junior participants received certificates.
Around the Web