Guyana's national rugby team will begin its NACRA 15s championship defence today and Banks DIH Limited will be one of its key players.
On Thursday at Thirst Park, the beverage giant agreed to brand and sponsor the national rugby team's NACRA 15s Qualifier game against Barbados at the National Park.
The company will brand the event under its world famous Banks Beer brand. The pact's financial magnitude was undisclosed but was labeled as substantial.
"Banks DIH has answered our prayers," said president of the Guyana Rugby Football Union (GRFU), Peter Green.
Green thanked the company's Communications Manager, Troy Peters then went on to state that it is a pleasure for the union to be associated with the conglomerate.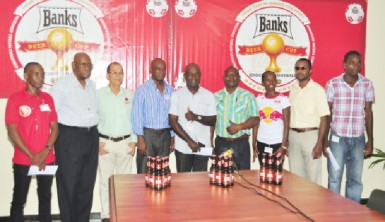 Peters pointed out that: "Banks DIH has always been supportive of rugby over many years and we will continue to offer our support to the development and growth of the sport."
He urged sport lovers to "come out and support" the nation's most successful outdoor sports team in their season debut, adding that an exciting match up with the visitors is envisaged.
Meanwhile, Theo Henry, coach of the national outfit told media operatives that his charges are "fit and ready" since they have been training for both formats of the game (7s and 15s).
Team Barbados arrived yesterday at the Ogle International Airport at 14:00hrs for today's match which kicks off at 16:00hrs.
The visitors will be looking for an upset against the mighty Jaguars. The regional powerhouse has been unbeatable home and away for the past year in both formats of the game.
After the national team open their campaign tomorrow, the NACRA 15's champions then tackles Trinidad and Tobago in an away game on April 11.
Once the national team is victorious in the above encounters, they will play the winner of the Northern Zone for the overall NACRA 15s title in a home game on April 25.
Around the Web