A confident Barbados national rugby squad arrived here yesterday for their NACRA 15s Qualifier match and wasted no time shrugging off the underdog tag against the hosts.
"Underdog is a strong word," said Kenneth Payne, Coach of the Bajan side shortly after arriving at the Ogle International Airport. "We drew with them, we beat them, and they beat us. It just depends on what happens on the day, I won't say that we are underdogs at all."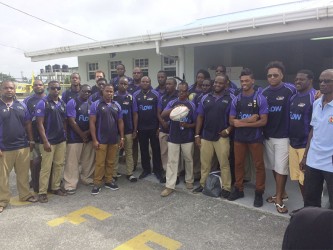 Today's match at the National Park comes with Guyana's national team on a high after going unbeaten throughout last year en route to capturing the NACRA 15s and 7s titles. The former for the seventh time in nine years and the latter the first after 43 years.
It is safe to say Guyana is a championship squad and has momentum on its side.
Nevertheless, the visitors will be looking to halt the locals' winning streak despite lacking the pedigree and silverware of their more celebrated counterparts. Team Barbados is here on a quest to win by upsetting the recently indestructible Green Machine.
"It is going to be a tough game" Payne opined. "Guyana are obviously coming back from winning the championship and would not give it up easily so we expect a big fight but we are here for a positive result.
Keys to victory?
"That depends on what we see tomorrow but I've seen lot of dedication from the youngsters and they will be able to handle what Guyana brings" said Payne who has been coaching the ruggers for the past five years.
Meanwhile, Theo Henry, coach of the national outfit told media operatives on Thursday that his charges are "fit and ready" since they have been training for both formats of the game (7s and 15s).
Kick off time for today's encounter is 16:00hrs.
After the national team open their campaign tomorrow, the NACRA 15's champions then tackles Trinidad and Tobago in an away game on April 11.
Once the national team is victorious in the above encounters, they will play the winner of the Northern Zone for the overall NACRA 15s title in a home game on April 25.
Guyana's 27 man squad reads: Cyon Kitt, Ryan Gonsalves, Claudius Butts, Joseph Rahaman, Avery Corbin, Allain Crawford, Kevon David, Rickford Cummings, Rondell Mc Arthur, Theodore Henry, Richard Staglon, Jason Tyrell Phabion Joseph, Godfrey Broomes, Dwayne Schroeder, Peabo Hamilton, Jose Felicien, Lancelot Adonis, Leon Greaves, Jamal Angus, Jermaine Prowell, Grantley Williams, Akeem Fraser, Troy Bascom, Blaise Bailey, Ronald Mayers and Delroy Gordon.
Barbados squad includes: Neil Forde, Jerrin Clarke, Romeo Mayers, Rajk Edwards, Anthony Faggiani, Jamal Gonsalves, Jermaine Bynoe, Stephen Millar, Mikyle Walcott, Bryan Cummings, Kenneth Payne, Troy Grant, Ramin Downes, Kevin Cobham, Tahaire Neils, Shane Taylor, Daniel Ramsey, Kevin Murrell, Kevin Carter, LA-Andro Jordan, Nico Blunt, Greg Moseley, Caston Howard and Enrique Oxley.
Around the Web