Alanzo Greaves' sprinting prowess was on full display yesterday at the National Park.
The Roraima Bikers standout, out-sprinted Team Coco's Hamza Eastman (2014 winner) in a photo-finish while Orville Hinds rounded out the podium after an exciting finish to the showpiece event of the 11-race programme.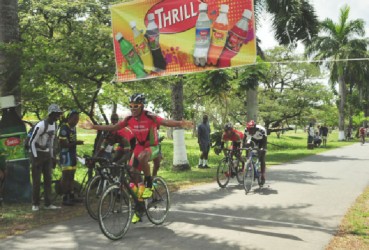 Greaves, who has been the most consistent wheelsman this season, got his first signature win of 2015 in the 35-lap event in a scorching one hour, 14 minutes and 28 seconds, just 28 seconds off the event record held by Hinds of Team Evolution.
Besides the winner's trophy, the national rider also took home three of the eight sprint prizes.
Eastman, Hinds and Raynauth Jeffrey (fourth place) snared one apiece while Chris Holder (5th place) pocketed two.
Robin Persaud finished a distant sixth.
The top five riders broke away from the peloton in the first lap and never relinquished their lead.
Despite valiant efforts by the peloton, the five-strong unit rode as a team to preserve their lead which ballooned with every powerful turn of their pedals.
As expected, team work was thrown out the window about 300m from the finish line.
Hinds rolled up the sprint, Eastman followed and this caused a domino effect as Greaves, Holder and Jeffrey rose from their saddles.
Eastman blew by Hinds with Greaves on his wheel about 100m to go.
Eastman still had the lead with 50m to go but Greaves seemed to find another gear and powered through for the win by a wheel.
Other winners yesterday were:
Alexander Leung (BMX 6-9)
Jonathan Jagdeo (BMX 9-12) and (12-14)
Junior Niles (Veterans Under 50)
Linden Blackman (Veterans Over 50)
Wilfred Thom (Veterans Over 60)
Marica Dick (BMX Boys and Girls 12-14)
Jamal John (Juveniles)
Sean Budhram (Mountain Bike)
Following the fixture which was sponsored by Caribbean International Distributors Inc. (CIDI) for the second successive year, the company's Sales and Marketing Manager, Alicia Katadeen-Singh, congratulated the riders. Katadeen-Singh also pledged her company's continued sponsorship. "We look forward to sponsoring this event and making it annual one on the cycling calendar," she said.
The event's organizer Hassan Mohamed thanked the cyclists for making the event a success and also lauded the support of CIDI.
He also reminded that the second leg of the Cheddi Jagan Memorial event will be staged this morning in Berbice.
Around the Web