Guyana rugby team's dominance of their regional rivals continued yesterday at the National Park.
In front of a large partisan crowd which included President Donald Ramotar and Prime Minster Samuel Hinds, the 'Green Machine' were once again indestructible and handed Barbados a 48-22 whipping in their NACRA 15s Qualifier match.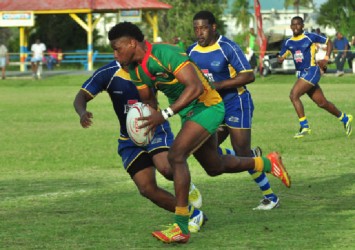 Two tries each by Blaise Bailey and Jamal Angus, four conversions by Captain Ryan Gonsalves and a try apiece by Avery Corbin, Claudius Butts, Theo Henry and Richard Staglon enabled Guyana to rout the blue clad visitors.
Raj Edwards (two tries), Stephen Millar (one try), Jerren Clarice (one try) and Mykyle Walcott (one conversion) were the scorers for Barbados.
The score line however, did not give a clear indication of Guyana's dominance.
After Corbin opened Guyana's scoring in the 15th minute, Edwards equalized five minutes after. Barbados would not score again until the 58th minute while Guyana continued to record try after try and conversions after tries.
Angus put Guyana up 10-5 in the 28th, then Gonsalves buried the conversion to add two more points. Nine minutes before the half time whistle, Bailey recorded his first try and sent the hosts to the locker room with a 17-5 advantage.
The local ruggers then agreed that there was plenty of time to create some carnage and with fresh legs in the engine room after the break, the 'Green Machine' transformed into robot mode and took the pace to another level.
The result?  A try by Butts (22-5), a conversion by Gonsalves (24-5) another try by Bailey (29-5). Henry then put on a vintage sprinting display straight down the middle to cross the try line (34-5). Gonsalves quickly nailed the conversion (36-5). Staglon joined the party (41-5) and Gonsalves once again padded the score line with a conversion (43-5).
Guyana's offensive outburst which sent the crowd into a frenzy was however halted when Barbados recorded two quick tries and a conversion to save face.
With the score at 43-17, Angus bulldozed his way and recorded his second try to stretch the advantage to 48-17.
As Guyana relaxed with the win in the bag, Clarice then closed the scoring four minutes later to make the score more respectable.
"It was great but we were kind of rusty," said Gonsalves in a post-match interview. "We came out and put on a good performance, we leaked a few tries but we did well today and I am proud of the guys."
In their next encounter, the NACRA 15's champions will tackle Trinidad and Tobago in an away game on April 11.
Once the national team is victorious in the above encounter, they will play the winner of the Northern Zone for the overall NACRA 15s title in a home game on April 25.
Around the Web