Despite a two-and-a-half hour delay because some sections of the track were wet, the first day of the CARIFTA Games trials to select Guyana's top junior athletes for the Easter weekend games in St Kitts saw some commendable performances.
A few of the athletes that stood out yesterday at the Camp Ayanganna Ground, were Cassie George, Jason Yaw, Compton Caesar and Chantoba Bright.
Here are a few highlights:
1500m under-18 Girls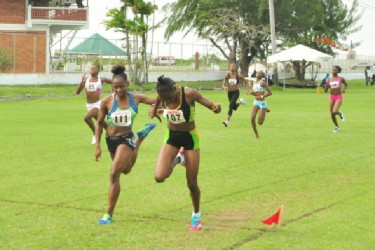 George, a multiple CARIFTA Games medalist underlined her class in a another superb display of speed and stamina winning in excess of 50m in a brisk 4 minutes 53 seconds to dominate the event which she led from the smoke of the pistol.
Claudrice McKoy (5m.01.7s) and Maria Urguhart (5m.34.6s) placed second and third.
400m under-20 Boys
The only opposition the two-time CARIFTA Games medalist faced was the stiff wind blowing from the Atlantic and the partially muddy track. Yaw made his rivals look like they were back pedalling when he shifted gear in the final 150m to win the quarter mile event in 49.4s.
Quacy Clementon, leader for most of the race finished second in 51.2s while Kareem Purch placed third (51.4s).
100m under-18 Boys
Caesar has been a model of consistency over the past year and could be booking his ticket to St. Kitts. The Lindener separated himself from the field at the mid-way mark and posted 10.70 seconds with Tyrell Peters snatching second spot in 10.90 seconds. Caesar's time equals the AAG's qualifying mark for selection and he will be hoping for greater success if he competes in St. Kitts during the Easter weekend.
High jump under-18 Girls 
Bright could also be punching her ticket to St. Kitts next month. She won the under-18 girls long jump event after leaping 5.53 metres. The AAG's qualifying mark was 5.40m.
Other winners yesterday in the under 18 category were: Kenisha Phillips (100m, 12.1s), Natricia Hooper (400m, 57.7s), Aldon Henry (400m, 51.6s) and Matthew McKenzie (1500m, 4m.18.1s).
Under 20s: Tevin Garraway (100m, 10.7s), Deja Smartt (100m, 12.2s), Merisha Carter (400m, 1m.01.2s), Andrea Foster (1500m, 5m.17.1s) and Ornesto Thomas (1500m, 4:15.3s).
Day two will be highlighted by the 200m, 800m, 3000m and the 5000m events. Action starts at 13:00hrs.
Around the Web