Spin twins Veerasammy Permaul and Devendra Bishoo yesterday routed the Jamaica second innings for a paltry 138 runs to set up a comfortable five wicket win inside three days for the Golden Jaguars at the Providence National Stadium yesterday in their Professional Cricket League four day encounter.
Chasing 161 runs for victory half centuries from Jaguars Captain Leon Johnson and Vishaul Singh saw the Guyanese to a commanding win.
Watched by a decent crowd, Guyana, who entered the eighth-round match with 107 points, breezed to their fifth consecutive win of the tournament after a sterling all-round performance by the entire team, maintaining their number one spot on the leaders table with 123 points after acquiring a total of 16 points from the game.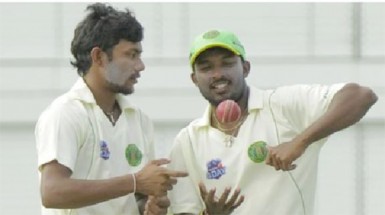 Man-of-the-match Permaul, was again spot on during his spells ending with 5-33 from 17 overs, complementing his first innings haul of 5-77.
The West Indies left-arm off-spinner finished with overall figures of 10-110, his second 10-wicket haul of the tournament.
Right-arm leg-spinner Bishoo was aggressive and attacked the Jamaicans, as he too replicated performances from the first innings as he bagged 4-22 to go along with his 4-62 in the first innings, finishing with figures of 8-84.
Guyana then cruised to 163 for 5, courtesy of their leader who registered his 23rd First-Class fifty and the second of the match.
Johnson's classy 58 came off 95 balls and he struck five fours. He shared a crucial 91-run partnership with Singh who constructed a workman-like 57 with six fours from 147 balls during his 157-minute stay at the crease.
Chris Barnwell then weighed in with an unbeaten 21, and having the distinction of hitting the winning runs.
Jamaica Fast bowler Jason Dawes bowled well for his 3-24 and leg-spinner Odean Brown 1-54.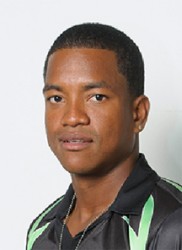 Guyana had dismissed Jamaica in their first innings for 258 with Jermaine Blackwood (54), Chadwick Walton (57) and John Campbell (48), the principal scorers while Guyana, in reply, were bowled out for 236 despite half-centuries from Johnson (78) and Rajendra Chandrika (69).
Leg-spinner Damion Jacobs grabbed five wickets for Jamaica who were then shot out for 138 runs in 40.5 overs during their second innings with the West Indies Test player Blackwood hitting five fours and a six in his top score of 47 and opener Campbell chipping in with 28.
F aced with a target of 161 for victory and two sessions and one full day of play to achieve it, Guyana started badly as opener Assad Fudadin (02), chopped a delivery from Dawes onto his stumps, the first wicket falling at 14.
The right-hand/left-hand combination of the two first-innings half-centurions, Chandrika (15) and Johnson looked busy in their approach before Dawes removed the former via LBW. Shiv Chanderpaul (04) then walked to the middle and battled 23 minutes, 13 balls before getting off the mark with a four off Jacobs who would make amends next delivery when he had the veteran caught at point for the second time in the match by Campbell.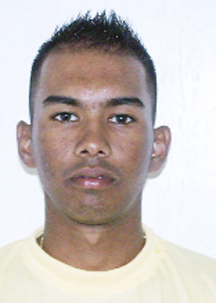 Progressing to 58 for 3 at the lunch break with Vishaul Singh on 8 and Johnson on 25 and 103 more runs for a win, the two Georgetown Cricket Club (GCC) left-handers applied themselves well against leg-spinners Brown and Jacobs.
Johnson then reached his second fifty of the match off 70 balls with five fours while Singh continued to graft his innings towards his half-century with the Jags requiring fewer than 30. But Brown had other plans for Guyana. He had the captain caught at deep mid-wicket by Marquino Mindley, bringing an end to the partnership.
Singh batted towards his milestone which he got off 133 balls with five fours but with Guyana needing four runs to win, the left-hander, who looked in two minds edged a delivery from Dawes into the gloves of Walton. Barnwell smashed Brown for a huge six over mid-wicket which sailed into the stands to seal the win for his team, leaving Bramble stranded on duck.
Earlier in the day, Jamaica who lost Shacya Thomas (00) LBW to Barnwell on the second day prior to stumps, benefited from Blackwood and Campbell (28) who added a half-century stand for the second wicket on day three. Blackwood looked set for his second fifty of the match but was halted by Permaul who also cut short Campbell's innings.
Prior to their dismissals, the two had smashed nine boundaries and one six during their partnership. Captain Tamar Lambert (18), muscled three fours before Bishoo had him pinned for a leg before wicket decision.
The pair of spinners, working in tandem with precision then pounced on the lower order, with wicket-keeper Chadwick Walton (8) edging Bishoo into the waiting gloves of Anthony Bramble. The Jaguars had his hands filled, literally, when Permaul induced a healthy edge from Brandon King's bat (00).
Dave Bernard Jr (18), briefly defied the two slow bowlers but Bishoo got the better of him when he pushed at one only to find Johnson at slip. Jacobs (00) fell to Permaul, giving Bramble another simple catch and Dawes (09) held out to substitute Trevon Griffith at mid-on off Bishoo who proceeded to wrap up the innings when Bramble took his fourth catch of the innings to remove Mindley for 4, leaving Brown stranded on 4 as well.
 Scoreboard
JAMAICA 1st Innings 258
GUYANA 1st innings 236
JAMAICA 2nd Innings
(Overnight 22 for one)
S Thomas lbw b Barnwell 0
J Campbell c Beaton b Permaul 28
J Blackwood st Bramble b Permaul 47
*+T Lambert lbw b Permaul 18
C Walton c wkp Bramble b Bishoo 8
B King c wkp Bramble b Permaul 0
D Bernard Jr c Johnson b Bishoo 18
D Jacobs c Johnson b Permaul 0
J Dawes c (sub) T Griffith b Bishoo 7
O Brown not out 4
M Mindley c wkp Bramble b Bishoo 4
Extras (lb4) 4
TOTAL (all out, 40.5 overs) 138
Fall of wickets: 1-1, 2-78, 3-89, 4-98, 5-98, 6-118, 7-119, 8-123, 9-132, 10-138.
Bowling: Beaton 8-1-36-0, Barnwell 5-1-25-1, Permaul 17-4-33-5, Bishoo 6.5-0-22-4, Deonarine 4-0-18-0.
GUYANA 2nd Innings (target: 161 runs)
R Chandrika lbw b Dawes 15
A Fudadin b Dawes 2
*L Johnson c Mindley b Brown 58
S Chanderpaul  c Campbell b Jacobs 4
V Singh c wkp Walton b Dawes 57
C Barnwell not out 21
+A Bramble not out 0
Extras (lb6) 6
TOTAL (5 wkts, 55.4 overs) 163
Fall of wickets: 1-14, 2-31, 3-42, 4-131, 5-157.
Bowling: Bernard 6-0-19-0, Dawes 10-2-24-3, Jacobs 12-2-38-1, Brown 19.4-2-54-1, Lambert 1-0-6-0, Mindley 2-0-8-0, Campbell 5-1-8-0.
Result: Guyana Jaguars won by five wickets.
Man-of-the-Match: Veerasammy Permaul.
Umpires: Nandkumar Shivsankar, Leslie Reifer.
Around the Web