At least five athletes made sure that their tickets could be booked for the CARIFTA Games in St Kitts next month when they triumphantly competed at the trials over the weekend at the Camp Ayanganna Ground.
Kenisha Phillips, Compton Caesar, Natricia Hooper, Chantoba Bright and Matthew McKenzie equalled or bettered the AAG's qualifying marks in their respective events and perhaps punched their tickets to the Caribbean island to compete at the Easter weekend Games in Sugar City.
 Under-18 Girls 200m
Phillips recorded a sprint double in the 200m yesterday after winning the 100m on Saturday but most
importantly was the fashion in which she did it.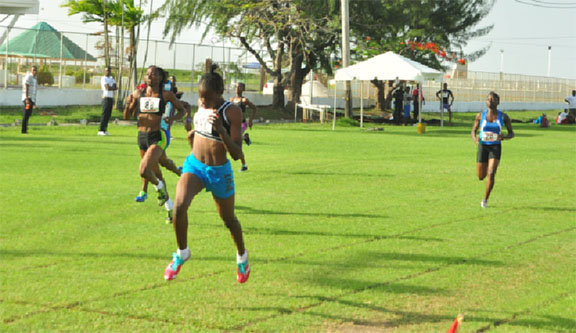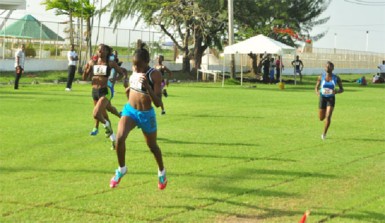 In her freshman appearance at the CARIFTA Trials, Phillips made running against more celebrated athletes look easy as she breezed past Avon Samuels on the turn on her way to clocking an eye popping 24.6s. Some .40 of a second better than the AAG's qualifying standard.
Samuels crossed the finish line in 25.1s while Onasha Rogers was third in 25.4s.
 Under-18 Boys 200m
Caesar also recorded a sprint double after winning the 100m final but just like Phillips, he was able to qualify for the CARIFTA Games in the half lap event.
Besides the clock and the gust from the Atlantic, the Lindener had little opposition from the start of the pistol and powered through in 21.6s. His winning time was .40s faster than the AAG's qualifying time.
Under-18 Girls Triple Jump
Both Hooper (12.26m) and Bright (11.55m) leapt further than the 11.35m stipulated mark for the triple jump event and could be donning national colours next month in St. Kitts.
Bright also qualified for the long jump on Saturday after posting 5.53 meters. The AAG's qualifying mark was 5.40m.
Under-18 Boys 3000m
McKenzie's time of nine minutes and 36 seconds was some four seconds faster than the qualifying mark and he should be considered to represent Guyana at the April 4-6 Games at the Silver Jubilee Stadium.
Other winners yesterday in the under-18 category were: Cassey George (800m, 2m: 23.5s) and Samuel Lynch (800m, 2m: 04.2s).
Under 20 winners included: Deja Smartt (200m, 25.5s), Linton Mentis (200m, 21.8s), Sasha James (800m, 2m: 44.0s), Ornesto Thomas (800m, 1m: 57.7s), Claudrice McKoy (3000m, 10m: 40.6s) and Odwin Tudor (5000m, 17m: 32.8s).
The day's activities were not free of hiccups as favourites for the 200m under 20 event, Tevin Garraway and Jason Yaw both pulled up with leg injuries. Yaw pulled his hamstring in his heat, while Garraway did the same in the final while fourth at the 100m mark. The athletes will now await word on who will be selected to represent Guyana at the 44th edition of the Games Easter weekend. (Emmerson Campbell)