KINGSTON, Jamaica, CMC – The West Indies Cricket Board has paid its condolences to legendary former West Indies fast bowler Joel Garner, whose father Hutson King, died on Saturday.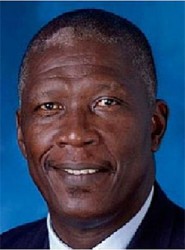 King passed away at his home in Enterprise, a small community on the south coast of Barbados. He was 85.
"There is little one can say at such a very sad time like this, but we know that the feelings of sorrow are shared by all who knew Joel's father and they will gradually find comfort in all their happy memories," said WICB President Dave Cameron.
"I want to let Joel know that his father would have lived to see him become an outstanding servant to his country and the people of the Caribbean, and would have died content for knowing this.
"On behalf of fellow directors, the management and staff of the WICB, we would like to express our very sincere sympathy to Joel, his family and the countless people with whom his father made friends over the years."
Garner is a WICB director and president of the Barbados Cricket Association.
Ironically on Saturday, he failed in his bid to unseat Cameron as WICB president when he lost 8-4 in elections held here during the board's Annual General Meeting.
Around the Web