Guyana's national rugby squad, affectionately called the 'Green Machine' once again proved indestructible against Barbados in their NACRA 15s Qualifier Game on Saturday at the National Park, routing the visitors 48-22 in their season debut.
The local ruggers' offensive outburst in the second half (31 points) and their solid defense for much of the game enabled them to keep their winning streak intact. Fact: The Green Machine have been undefeated in both formats of the game in more than a year.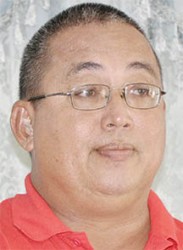 The dominant win puts them one step closer to retaining their 15s title that they earned last year after 43 years. Despite their rustiness which was evident especially in the second half of the match (leaking two tries and a conversion in quick succession), the national team drew a positive reaction from their president, Peter Green.
"I'm elated that our boys were able to defend well considering the heavier built Bajans," said Green.
The straw that stirs the drink for the local ruggers added that "We have some mistakes that we will have to correct for our next game which I am sure we will."
The GRFU head then heaped praises on the coaching staff who "did a great job preparing the boys for Saturday's game."
Green also reminded that the NACRA 15's champions will tackle Trinidad and Tobago in their next encounter. It will be an away game on April 11.
Once Guyana's most successful outdoor sports team in the past decade is victorious in the above encounter, they will play the winner of the Northern Zone for the overall NACRA 15s title in a home game on April 25. "We play the North Zone champions either Mexico or Cayman Islands probably Mexico since they recently crushed USA South 50-25" Green pointed out.
Before the TT fixture the 7s team will travel to Hong Kong to compete in the prestigious HSBC Hong Kong 7s tournament scheduled for March 27-29.
Around the Web