The local football fraternity has incurred another administrative loss as Georgetown Football Association (GFA) President Vernon Burnett has officially tendered his resignation from the entity.
Attempts to contact Burnett for a comment yesterday proved unsuccessful. Burnett, who is currently in his second stint at the helm of the association, will officially demit office March 31 2015.
Upon him demitting office, first vice-president Lavern Fraser-Thomas will head the association until the entity hosts its elections of office bearers.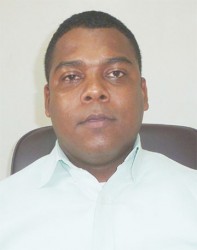 Fraser during an invited comment yesterday said: "In view of the service he would have provided the GFA with and at this point in time, it's really beyond him to continue to do so as a result of his other commitments and we extend gratitude to him for the time spent."
According to sources within the association, Burnett's decision was partially influenced by the current football climate locally.
The sources hinted that the GFA boss believed that the association was currently headed for another standoff with the GFF and that he was not prepared to be a part of such.
Excerpts from the official correspondence sent to the association by the GFA Chief and dated March 5 2015 said: "It is with much regret that I have made this difficult decision to resign as the President of the Georgetown Football Association with effect March 31st 2015."
The document, which was also sent to the GFF Normalization Committee Chairman Clinton Urling as well as the entire GFA executive and its clubs also stated: "It has been both a difficult and complex period for the football fraternity. However, at the same time we have made great strides within the various leagues and competitions. More specifically, the standard of play within out teams has improved significantly.
"It has been a wonderful experience to be a part of such a professional organization working along with the clubs and its membership. I would like to thank all the players, clubs and fellow executive members for their support, loyalty, professionalism and passion they demonstrated towards the game football".
"To our loyal fans who made competition enjoyable. Special thanks to the coaches for their hard work and dedication. Finally, I would like to make myself available to assist the executive if the need arises. I thank everyone for granting me the opportunity and privilege to serve" Burnett wrote.
Around the Web