The Golden Jaguars senior men's squad officially commenced training yesterday at the Eve Leary ground for their upcoming international friendly engagements against St. Lucia and Grenada in preparation for the FIFA 2018 World Cup Qualifiers.
The fixture against St Lucia on March 22 at the Providence National Stadium, will be the first to be held on local shores in more than 28 months while the local side will also be in action the following Saturday against Grenada in another international friendly.
The last international friendly on local shores was held on September 11th 2012 against El Salvador. At the end of the fixture, the score line read 3-2 in the favour of the visitors.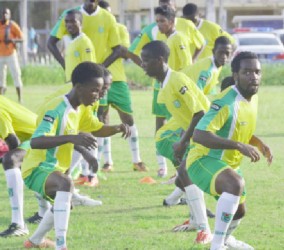 Guyana's most recent international fixture was a 2-2 draw with Barbados in the Land of the Flying Fish on February 1st. The return leg of that international series is expected to be announced by the Normalization Committee of the Guyana Football Federation (GFF) shortly.
Asked what will be the focus of the management staff during the respective training sessions, recently confirmed head-coach Jamaal Shabazz said their priority will be on tactical aspect of the sport.
The Trinidad and Tobago native hinted that the aim will be to prepare the team on what is required offensively, noting work will also be done on what is expected of them from a defensive standpoint.
According to the Caledonia AIA Boss "Of course we want to have good results; a good result is always the first priority on the agenda, but we also want to build a national team over a period of two years that will brand itself back to the kind of team we had in the past and even try to do better".
Shabazz further said "A journey of a thousand miles begins with one step and it's not going to be an easy process. Always giving players international exposure is a tedious process and we've got to be mindful, because the results don't always come the way we would like."
While the composition of the squad is primarily local based inclusive of several u-23 players, overseas players inclusive of North Americans Jamal Smith and Brandon Beresford are expected to join the setup for the match with the Grenadians.
Some of the players that were present at the first training session were Goalkeeper Derick Carter (Western Tigers) Dorville Stewart (Alpha United), Defenders Dwain Jacobs (Slingerz FC), Stephon Ramsay (Alpha United), Joshua Browne (Slingerz FC), Trevon Jones (Grove Hi-Tech), Solomon Austin (Slingerz FC), Les Charles Critchlow (Slingerz FC) Midfielders Eon Alleyne (Guyana Defence Force), Vurlon Mills (Slingerz FC), Clive Nobrega (Slingerz FC), Calvin Shepherd (Alpha United), Amos Ramsay (Riddim Squad), Kareem Knights (GFC), Konata Manning (Pele FC) and Forwards Sheldon Holder (Alpha United), Manasseh Primo (Alpha United) and Daniel Wilson (Alpha United).
Around the Web