Your favorite Friday night sports show, 'Maximum Sports' will now air on Saturday afternoons from this weekend.
The air time for 'Maximum Sports' which is broadcast on NCN Channel 11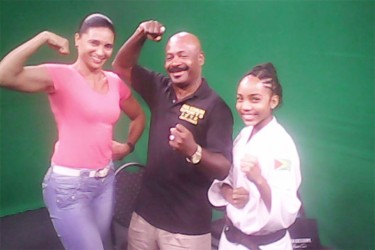 has been moved from Friday nights at 21:00 to Saturdays from 16:30hrs.
According to Max Massiah, host and executive producer of the weekly one-hour show, the shift was made to facilitate the broadcasting of the World Cup Cricket and the upcoming elections.
"Elections is coming up and it's a government-run channel so I'm anticipating a lot more changes. So to facilitate my viewers, the most important part of this programme, I have decided to shift it to Saturday because that is the next best available time for the programme," Massiah said yesterday.
Maximum Sports, the entertaining, inspiring and informative one-hour weekly programme which focuses on combat and strength (boxing, martial arts, judo, power lifting, bodybuilding and rugby will broadcast its 41st episode on Saturday.
Massiah, a 2nd degree black belt Marshal Artist, said he will feature bodybuilding, excerpts of the E-Networks Crossfit Games and the Clive Atwell/Sakima Mullings WBC CABOFE light welterweight title fight.
"This programme is about educating and entertaining the viewers," Massiah stated.
Caricom Group of Companies, the Guyana Karate College, Fitness Express, Terminex Pest Control and A. Ali and Sons have been supporting Massiah from the inception of the programme 10 months ago.
Around the Web