Fifties from Rajindra Chandrika and Anthony Bramble coupled by strong batting performances from skipper Leon Johnson, Assad Fudadin and Vishaul Singh, headlined play on the first day of round nine of the
Professional Cricket League (PCL) Four Day tournament between the Guyana Jaguars and the Trinidad & Tobago Red Force.
A decent number of spectators sprinkled around the stands along with brilliant weather throughout the day made for a good first day's play at the Guyana National Stadium, Providence, where the home team were 264 for 6 at stumps heading into the second day with Bramble steady on 51 not out, his third, first-class half-century and Singh on 46 not out.
The two players are currently involved in an unbroken 78-run partnership for the seventh wicket.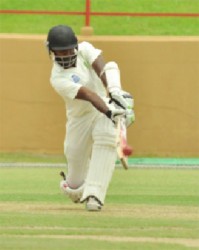 Red Force spinners Jason Mohammed (2-44) and Imran Khan (3-55) did the bulk of the damage on a surface which has been favoring the slower bowlers this season as they pulled things back from the Jags who were at one point 133-2.
Right-handed opener Chandrika, who crunched nine fours in his 69-ball 52, deserved the maiden century which has eluded him recently but played well for his fifth half-century of the competition.
Johnson, who was ultra-aggressive during his 64-minute stay at the crease, spanked six fours and two sixes in his 49 from 61-balls,
narrowly missing out on his third consecutive fifty in two matches.
Opener Fudadin, who seems to be recovering well from his finger injury, was gritty and calculative as he assessed the innings properly, batting with majority of the top-order batsmen as he crafted a patient 44 from 148 balls with five fours one six, lasting 209 minutes at thecrease.
Batting first, Chandrika was given a life early on but shrugged it off immediately to resume his innings in a positive manner while Fudadin remained solid getting his first boundary with a masterful cover drive of Gabriel who operated from the Media Center End.
The Jaguars fifty came up and so too did Chandrika's which required a mere 64 balls but again after reaching his partial milestone, the right-hander fell two runs afterwards when he was caught at backward-square by Brian Charles off captain Rayad Emrit (1-25), who he had earlier hit for two fours in the same over.
As lunch approached and the score 74 for 1 after the dismissal of
Chandrika, the pair of West Indies batsmen sought to carry their team into the afternoon session without any further hiccups as they took the score to 91-1 after 27 overs.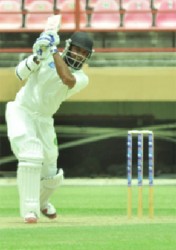 When play resumed, Johnson took a special liking to Mohammed's spin and clattered the Red Force bowler for a six the second ball after lunch which he followed up with consecutive fours as the Guyana Jags skipper raced into the 30's.
Fudadin continued to carefully construct his innings as Johnson absorbed most of the pressure being the more aggressive of the two by continuing his assault, this time on Khan whom he smacked over the long-on boundary for a six.
However, the visitors would be indebted to Khan who had the Jags captain caught at short leg by Kjorn Ottely which left the team still decently placed on 133 for 2, but more importantly breaking the 59-run partnership between the two West Indies Test batsmen.
The table leaders then found themselves in a spot of bother when Khan struck again in his next over, this time snaring the big wicket of Narsingh Deonarine (00). Half-century maker from the last match, "Cheesy" Singh walked to the centre to partner the rock-solid Fudadin who met an unfortunate end when he drove solidly back at Mohammed who took a good return catch to send the bearded opener back to the pavilion.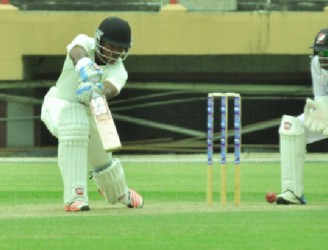 Shiv Chanderpaul (02), on his second ball and yet to come off the mark, was given a life when wicket-keeper Steven Katwaroo missed a stumping of Mohammed, but the off-spinner would then bag his prized wicket when the veteran left-hander was adjudged leg before wicket.
Chris Barnwell (14) was another LBW victim, this time off the bowling of Khan at the stroke of tea as the Red Force pulled things back tremendously, taking five wickets for 95 runs since the lunch interval.
Resuming the last session of day one on 186 for 6, Guyana notched up their 200-run mark with Singh firmly placed on 27 and new man Bramble on 6 as the Red Force spinners sought to apply further pressure.
The two negated the spinners threat and took the score past 250 as they both crept closer to respective fifties with the wicket-keeper being the aggressor in the partnership, reaching his fifty with a off-side punch for two runs off 75 deliveries.
Singh, a few runs away from another fifty, smashed Ottely for a boundary through mid-wicket but was left stranded as stumps were called on the first day. The match resumes today at 10:00hrs.
Scoreboard
GUYANA 1st Innings
R Chandrika c Charles b Emrit                                     51
A Fudadin c & b Jason Mohammed                            44
*L Johnson c Ottley b Imran Khan                             49
N Deonarine lbw b Imran Khan                                    0
V Singh not out                                                               46
S Chanderpaul lbw b Jason Mohammed                      2
C Barnwell lbw b Imran Khan                                      14
+A Bramble not out                                                       51
Extras: (lb4, w1, nb2)                                                     7
TOTAL: (6 wkts, 90 overs)                                          264
To bat: V Permaul, D Bishoo, K Joseph.
Fall of wickets: 1-74, 2-138, 3-138, 4-165, 5-167, 6-186.
Bowling: Gabriel 14-2-60-0, Richards 13-3-31-0, Emrit 10-2-25-1, Y Ottley 9-1-39-0, Jason Mohammed 22-6-44-2, Imran Khan 21-4-55-3, K Ottley 1-0-5-0.
Toss: Guyana Jaguars
Umpires: Lennox Abrams, Nigel Duguid
Around the Web