Trojan Cycle Club's Jeban Crawford brought his talents to the National Park and upset a star studded field of rival wheelsmen to win the feature event of the 10th annual Diamond Mineral Water criterium programme yesterday.
The Berbician, who recorded his first win at the venue, stopped the clock at one hour, 17 minutes and 10 seconds in perfect conditions for racing.
Besides the winner's trophy, Crawford also pocketed a sprint prize. He led United Biker's Horace Burrowes and Paul DeNobrega onto the podium while Akeem Wilkinson (Team Evolution) and Team Alanis' Chris Griffith and Paul Choo-Wee-Nam filled out the top six rewarding positions.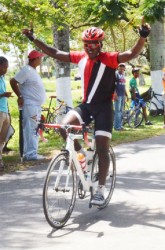 Burrowes, who led the charge from the initial stages of the event, snared three of the eight sprint prizes. Two went to Choo-Wee-Nam and one apiece to Orville Hinds and DeNobrega.
Crawford and Burrowes orchestrated a break away in the fourth lap and despite a valiant effort by the peloton, the duo managed to preserve their lead.
The cyclist from the Ancient County however, had the win to scratch off his bucket list and abandoned team work at the bell lap. Crawford attacked his breakaway mate and held on for the memorable victory.
At the presentation ceremony, the standout performers were presented with their trophies by Marketing Assistant of Demerara Distillers Limited, Devica Jhagdeo.
The programme's, organizer, Hassan Mohamed, congratulated the competitors for making the fixture a success. He was also in praises of DDL for sponsoring the race for the past decade.
Star Party Rental will sponsor Saturday's 11-race programme at the same venue while on Sunday, the riders will take their talents to Essequibo to compete in the third and final leg of the Cheddi Jagan memorial road race series. (Emmerson Campbell)
Other winners yesterday included: Brighton John (12-14 Boys and Girls)
Junior Niles (Veteran under 50)
Linden Blackman (Veteran over 50)
Jamal John (Juveniles)
Seon Budhan (Mountain Bike)
Sherwin Sampson (BMX 9-12 and 12-14)
Alex Leung (BMX 6-9)
Around the Web