Yannick Cariah struck a half-century to keep Trinidad and Tobago Red Force in the hunt for first innings honours in their four-day match against the Guyana Jaguars at the Providence National Stadium yesterday.
When rain stopped play on the second day of the Professional Cricket League Regional encounter, the Red Force were 173 for 4 in reply to the Jaguars first innings score of 291 all out.
The 22-year-old Cariah faced 187 balls and batted for 249 minutes for his unbeaten 70 which featured five fours while Yannick Ottley was steady on 15 not out.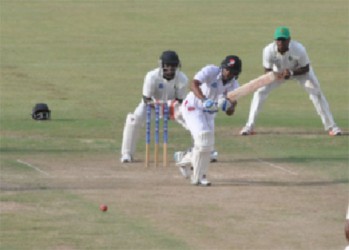 Bowling for the Guyana Jaguars, Davendra Bishoo, Veerasammy Permaul, Narsingh Deonarine and Chris Barnwell each claimed a wicket.
After dismissing Guyana a few overs before lunch, Red Force lost Jeremy Solozano (03) when the opener was caught at second slip by Singh. Kjorn Ottley (34) and Imran Khan (18) then took advantage of wayward bowling by Keon Joseph, managing a few boundaries before the stroke of lunch.
Prior to the resumption of play, Assistant Coach of the Jaguars, Rayon Griffith, briefly worked with Joseph to assist the pacer with his line and length but the woes continued for the ex-West Indies U19 bowler who struggled with his line and length.
Johnson then opted for off-spinner Deonarine who immediately got the breakthrough when he had Khan caught by 'keeper Bramble.
Ottley and Cariah consolidated and forged a good looking partnership as tea approached, taking the score to 104-2 at the intermission with Cariah on 42 and Ottely 29.
Bishoo, with a piece of deceptive bowling deprived Ottely of a possible half-century after the batsman picked out a wandering Shiv Chanderpaul at long-on, breaking the third wicket stand of 79. However, Cariah would easily reach his half-century with a vicious cut shot for four off Permaul after some 127 minutes in the middle.
Jason Mohammed (13), after smashing Permaul for a four, was pinned leg before the very next ball, leaving the score 147-4. As stumps approached, the rain returned at 17:05 hrs and the ground staff immediately brought on the covers as Cariah and Ottley walked off after 61 overs.
Resuming, their innings on 52 and 47 respectively, Bramble and Singh were met with a rampaging Marlon Richards (3-46) who first removed the latter after he reached his half century from 152 balls, prior to the rain which came at 10:40hrs and interrupted play for 40 minutes.
Bramble progressed but he was caught at mid-off of Richards who then picked up his third when he knocked over Permaul for duck, leaving West Indies Test bowler Shannon Gabriel to administer the same result to Bishoo (00).
Scoreboard
GUYANA 1st Innings
(overnight 264 for six)
R Chandrika c Charles b Emrit                                      51
A Fudadin c & b Jason Mohammed                              44
*L Johnson c Ottley b Imran Khan                                49
N Deonarine lbw b Imran Khan                                      0
V Singh c Richards b Cariah                                          52
S Chanderpaul lbw b Jason Mohammed                        2
C Barnwell lbw b Imran Khan                                   14
+A Bramble c Emrit b Richards                                   63
V Permaul b Gabriel                                                       9
D Bishoo b Gabriel                                                         0
K Joseph not out                                                                  0
Extras (lb4, w1, nb2)                                                       7
TOTAL (all out, 104.5 overs)                                     291
Fall of wickets: 1-74, 2-138, 3-138, 4-165, 5-167, 6-186, 7-282, 8-283, 9-283, 10-291.
Bowling: Gabriel 21-5-72-1, Richards 19.5-5-46-3, Emrit 10-2-25-1, Y Ottley 9-1-39-0, Jason Mohammed 22-6-44-2, Imran Khan 21-4-55-3, K Ottley 1-0-5-0.
T&T RED FORCE 1st Innings
J Solozano c Singh b Barnwell 3
Imran Khan c wkpr Bramble b Deonarine 18
K Ottley c Chanderpaul b Bishoo 34
Y Cariah not out 71
J Mohammed lbw b Permaul 13
Y Ottley not out 15
Extras (b4, nb15) 19
TOTAL (4 wkts, 61 overs) 173
Fall of wickets: 1-5, 2-33, 3-112, 4-(N/A)
Bowling: Joseph 6-0-35-0, Barnwell 6-2-16-1, Deonarine 13-6-29-1, Permaul 19-5-47-1, Bishoo 15-5-35-1, Johnson 2-0-7-0.
Position: Red Force trail by 118 runs with six wickets intact.
Toss: Guyana Jaguars
Umpires: Lennox Abrams, Nigel Duguid
Around the Web