NAPIER, New Zealand, CMC – West Indies put to rest the anxiety over their participation in the next round of the ICC Cricket World Cup by brushing aside United Arab Emirates by six wickets, to set up a quarter-final clash with red hot New Zealand next Saturday.
After routing UAE for a paltry 175 at McLean Park here yesterday, West Indies survived a few stutters to reach their target in the 31st over, and ensure their progression in the tournament.
Opener Johnson Charles, in for his first match of the World Cup at the expense of the injured Chris Gayle, top scored with 55 from 40 balls while the left-handed Jonathan Carter stroked a classy unbeaten 50 from 58 balls.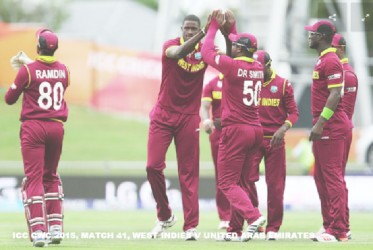 Wicketkeeper Denesh Ramdin was 33 not out off 50 deliveries at the end, adding 58 with Carter in an unbroken fifth wicket stand.
Medium pacer Amjad Javed (2-29) and left-arm seamer Manjula Guruge (2-40) finished with two wickets apiece.
Earlier, captain Jason Holder ripped apart the top order of UAE's innings, to send the minnows crashing to 46 for six in the 14th over.
The lanky seamer claimed four for 27 to earn Man-of-the-Match honours, with new-ball partner Jerome Taylor picking up three for 36 and pacer Andre Russell, two for 20.
In danger of being dismissed for under 100, UAE were rallied by brave half-centuries from Nasir Aziz who hammered 60 from 86 balls with eight fours, and Amjad whose 56 came from 99 deliveries and included seven fours and a six.
They put on 107 runs for the seventh wicket to frustrate West Indies.
The victory carried West Indies to six points, level in fourth spot in Group B with Ireland who went down to Pakistan by seven wickets in Adelaide.
However, the Windies nipped the Irish for a spot in the next round by virtue of a better net run rate.
The Caribbean side will now take on unbeaten New Zealand – who topped Group A – at the Wespac Stadium in Wellington next Saturday.
With Tropical Storm Pam swirling in the distance and the threat of a rain disruption hanging over the game, West Indies won the toss and quite sensibly chose to bowl first, and wiped out the UAE top order in quick time.
Holder got Andri Berenger (7) to flirt with one on off-stump in the fourth over and feather a catch through to Ramdin and in his next over, the skipper found Krishna Chandran's outside edge before he had scored for Dwayne Smith to take a low catch at first slip.
Two balls later in the same over at 17 for three, Holder claimed opener Amjad Ali lbw for five, as UAE's slide continued.
Taylor then removed Khurram Khan's leg stump with a full length delivery for five in the seventh over before uprooting Shaiman Anwar's off stump in the next over, with a fast, straight delivery which the batsman played around.
When Holder got one to jag back and send Swapnil Pati's off stump cartwheeling in the 14th over, UAE were in serious danger of collapsing for the tournament's lowest score.
However, Amjad and Nasir played bravely, capitalizing on ordinary stuff from pacer Kemar Roach whose eight overs were ragged and cost 54 runs.
Nasir twice pulled short balls from the right-armer for boundaries in the 26th over and when Roach was brought back for a second spell in the 37th over, it coincided with Nasir reaching his maiden ODI half-century.
He celebrated with two boundaries in Roach's next over which cost 15 runs and Amjad collected a third four in the over through cover, to also raise his first one-day fifty.
Russell got the breakthrough, bowling Amjad with a slower ball in the 41st, and his dismissal triggered a final slide that saw the last four wickets tumble for 22 runs.
Charles and Smith, who made 15, then gave the Windies a hurried start of 33 off 19 deliveries, with Charles in particular playing aggressively. In the first over of the innings, he lifted off-spinner Nasir over mid-off for four and then cleared the ropes at long on.
Smith followed up in Nasir's next over, the third of the innings which bled 15 runs, sweeping for four and then going straight for six, with Charles slamming the final delivery to the cover boundary.
However, Smith tickled the first delivery of the next over behind to depart and vice-captain Marlon Samuels lasted 18 balls for his nine before slapping left-arm seamer Manjula Guruge into Berenger's lap at point, at 53 for two in the eighth over.
Carter and Charles steadied West Indies in a 56-run, third wicket partnership that required just 46 deliveries.
Overall, Charles counted nine fours and two sixes while Carter collected five fours, as West Indies moved beyond 100 and whittled away at their target.
The right-handed Charles raised his fourth ODI half-century in the 14th over but then holed out to mid-off off Amjad and Russell (7), promoted in the order to accelerate the scoring, belted a six over long on but then popped one up for Amjad to take the return catch in his next over.
Tentatively placed at 118 for four in the 18th, West Indies found momentum in Ramdin and Carter who calmly saw the Caribbean side over the line and more importantly, into the next round.
Scoreboard
UNITED ARAB EMIRATES
Amjad Ali lbw b Holder  5
A Berenger c wkp Ramdin b Holder 7
Krishna Chandran c Smith b Holder 0
Khurram Khan   b Taylor 5
Shaiman Anwar b Taylor 2
S Patil† b Holder 6
Amjad Javed b Russell 56
Nasir Aziz c Holder b Samuels 60
Mohammad Naveed b Russell 14
*Mohammad Tauqir b Taylor 2
M Guruge not out 4
Extras   (lb4, w10) 14
TOTAL (all out, 47.4 overs) 175
Fall of wickets: 1-13 (Berenger, 3.1 overs), 2-16 (Krishna Chandran, 5.1), 3-17 (Amjad Ali, 5.3), 4-21 (Khurram Khan, 6.4), 5-26 (Shaiman Anwar, 8.2), 6-46 (Patil, 13.5), 7-153 (Amjad Javed, 40.3), 8-167 (Mohammad Naveed, 42.1), 9-167 (Nasir Aziz, 43.4), 10-175 (Mohammad Tauqir, 47.4)
Bowling: Taylor 8.4-0-36-3 (w2), Holder 10-1-27-4 (w4), Roach 8-0-54-0 (w2), Russell 8-3-20-2 (w2), Samuels 10-4-25-1, Sammy 1-0-4-0, Smith 2-0-5-0.
WEST INDIES
Smith c Patil b Guruge 15
Charles c Chandran b Javed 55
Samuels c Berenger b Guruge 9
Carter not out 50
Russell c and b Javed 7
+D. Ramdin not out 33
Extras (lb4, w3) 7
TOTAL (4 wkts, 30.3 overs) 176
Fall of wickets: 1-33 (Smith, 3.1 overs), 2-53 (Samuels, 7.4), 3-109 (Charles, 15.2), 4-118 (Russell, 17.2)
Did not bat: L Simmons, D Sammy, *J Holder, K Roach, J Taylor.
Bowling: Nasir Aziz 6-0-47-0, Mohammad Naveed 6-0-34-0 (w1), Guruge 7.3-1-40-2, Mohammad Tauqir 3-0-22-0, Amjad Javed 8-0-29-2 (w2).
Result: West Indies won by six wickets.
Points: West Indies 2, UAE 0.
Man-of-the-Match: Jason Holder.
Toss: West Indies.
Umpires: Aleem Dar, Ranmore Martinesz;
TV – Richard Kettleborough.
Around the Web