Davendra Bishoo snatched six wickets and Assad Fudadin scored his 20th First-Class fifty to give the Guyana Jaguars a slim 71-run lead over the Trinidad & Tobago Red Force, setting up a thrilling final day of cricket in the West Indies Cricket Board's Professional Cricket League (PCL) 4-day tournament.
Round nine of the 2014/15 tournament continued which continued at the Providence National Stadium, Guyana, saw the Jags seeking to maintain their winning streak but more importantly seeking to break a 17 year-old title drought with a win over the visiting Red Force.
At stumps, the Jags were 120-3 from 43 overs with Narsingh Deonarine (06*) and night-watchman Bishoo (04*) looking to stretch their lead when play resumes today.
Fudadin struck seven fours in a relatively brisk 120-ball 50. He batted for some 162 minutes. Spinners Imran
Khan (1-37) and Jason Mohammed (2-9) were the prime wicket takers for Trinidad.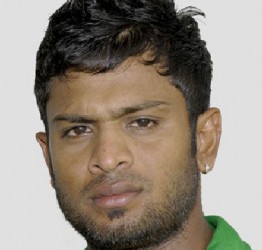 Bishoo's haul of 6-79 from 31.5 overs was the 15th five-wicket haul for the former West Indies leg-break bowler who exploited the three day old Providence track during his spells, taking his tournament tally of wickets to 50. Left-arm spinner Veerasammy Permaul snatched 2-92 while a wicket each for Chris Barnwell and Narsingh Deonarine completed a good bowling exhibition.
Yannick Ottley (82), Yannick Cariah (71), wicket-keeper Steven Katwaroo (70*) and Kjorn Ottley (34) all launched counter attacks for the Red Force which helped their side to a valuable 44-run lead over
Guyana on the third day before Bishoo and company knocked them over for 340 in reply to the Jags' first innings 291.
Guyana's second batting innings saw Fudadin and Rajindra Chandrika (31) again looking aggressive, taking the score to 43-0 at tea,
trailing by six runs. Khan, who reached 50 tournament wickets, got into the action early by removing the right-handed Chandrika leg before wicket to reach his milestone.
Leon Johnson (28) came out with the score 60-1 and along with his fellow West Indies mate, the two pushed the score to 108 before the captain was out LBW after missing a sweep shot from a Mohamed
delivery.
Meanwhile, Fudadin crept closer to the half-century he narrowly missed out on in the first innings, reaching his 50 from 114 balls but was immediately sent packing by the off-spinner Mohammed who got a
delivery to sneak through the gates of the Test batsman, disturbing his stumps.
Night-watchman Bishoo got off the mark with a drive for four through the off-side and along with Deonarine, the two Berbicians negated the Red Force bowlers as the umpires brought down curtains on an exciting third day of cricket between these two territories.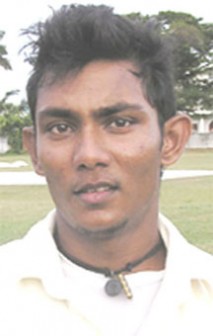 Earlier, day three began with the Red Force trailing by 118-runs with Cariah and Ottley batting to take their team to a safe position.
Ottley then joined the list of half-century makers in this match but Bishoo began to work his magic when he had Cariah caught by the 'keeper Bramble.
Ottley and the young Katwaroo joined forces to take the visitors past their initial target, providing them with a slight lead with the young wicket-keeper reaching his fifty and the two adding a valuable 137-run partnership for their side.
However, the two Jaguars spinners would then seek to mop up the Red Force batting line after the lunch break with Permaul having Ottley given out leg before wicket and Bishoo removing Emrit and Richards for a run each.
Gabriel had other plans and launched a brief counter-attack by smashing Bishoo for three fours and a six at the back end of the innings before he became the leg-spinner's sixth victim of the innings, caught by Shiv Chanderpaul in the deep, leaving Katwaroo stranded on his road to a possible ton.
The fourth and final day which begins at 10:00hrs, is expected to produce a nail-biting result.
GUYANA 1st Innings                              291
T&T RED FORCE 1st Innings
(overnight 173 for four)
J Solozano c Singh
b Barnwell                                                      3
Imran Khan c wkpr Bramble
b Deonarine                                                  18
K Ottley c Chanderpaul b Bishoo              34
Y Cariah c (N/A) b Bishoo                          71
J Mohammed lbw b Permaul                     13
Y Ottley lbw b Permaul                              82
+S Katwaroo not out                                    70
*R Emrit c wkpr Bramble b Bishoo              1
M Richards lbw b Bishoo                                1
B Charles c Barnwell b Bishoo                       0
S Gabriel c Chanderpaul b Bishoo              16
Extras: (b12, lb2, nb17) 31
TOTAL: (all out, 114.5 overs)                    340
Fall of wickets: 1-5, 2-33, 3-112, 4-147, 5-173, 6-310, 7-311, 8-313, 9-316, 10-340.
Bowling: Joseph 12-0-56-0, Barnwell 9-2-38-1, Deonarine 21-9-54-1, Permaul 39-10-92-2, Bishoo 31.5-3-79-6, Johnson 2-0-7-0.
GUYANA 2nd Innings
R Chandrika lbw b Khan                             31
A Fudadin b Mohammed                            50
*L Johnson lbw b Mohammed                   28
N Deonarine not out                                      6
D Bishoo not out                                            4
Extras: (b1)                                                   1
TOTAL: (3 wkts, 43 overs)                     120
Fall of wickets: 1-60, 2-108, 3-111.
Bowling: Gabriel 7-1-27-0, Richards 4-1-11-0, Emrit 8-5-17-0, Imran Khan 12-2-37-1, Charles 7-0-18-0, Mohammed 5-2-9-2.
Position: Jaguars lead by 71 runs.
Toss: Guyana Jaguars
Umpires: Lennox Abrams, Nigel Duguid.
Around the Web