Score's Even presented owner, Dennis Deoroop with the perfect birthday gift yesterday at the Kennard Memorial Turf Club.
Guyana's premier thoroughbred underlined its class to win the feature A and Lower seven-furlong event, beating Lady Budapest by about eight lengths.
Jack In My Style and Just Call Me Boss finished a further two lengths back in third and fourth.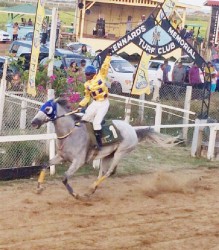 Most impressively, the victory came after the 1000-pound grey gelding broke away from its handlers just before the race started minus a jockey and galloped around the 1400m track twice before coming to a tiring halt.
At the time it felt like an existential disaster as the dumbfounded turfites and Deoroop watched the unfolding drama.
After regrouping from the false start with the help of the birthday boy, Score's Even picked up right where he left off.
With the day's champion jockey, Rad Drepaul on its mount, Score's Even broke sharply and dueled for the lead outside of Red and Lovely and Just Call Me Boss for a half-mile before taking command of the seven-horse field.
As the standing bumper crowd cheered, the thoroughbred fetching an eye popping 134 pounds opened up a three-length advantage in midstretch and continued on strongly to the wire to earn a victory in its season debut.
With the win, Score's Even presented the 40-year old Deoroop with a gift of $1M.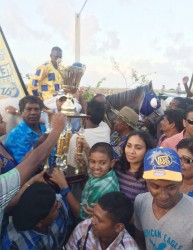 "I am certain if he didn't do what he did earlier he would have won by a furlong today, he was in that kind of mood" a relieved Deoroop stated after the race.
"I know he's bred for the distance, he is a mile and a half horse and he did not stretch out when he broke at the false start, he is a smart horse and I'm glad he got the win."
Score's Even's stablemates Run Na Na Run and Royal Stallion also recorded victories to put the icing on Deoroop's cake.
Simply Royal Stables subsequently took home the Champion Stable trophy.
Yesterday was truly a memorable day for the Deoroop family.
Quick Results of the day's activities.
Race 1 K Class
Royal Stallion ($120,000)
Trigger
Massaparquea Dr
Turn About
Race 2 (D3 And Lower)
Run Na Na Run ($400,000)
Country Armagh
Church House
Red and Lovely
Race 3 (J and Lower)
Party Time ($180,000)
Lady Secret
It's My Time
Royal Cash
Race 4 K Class
Turn About ($120,000)
Royal Stallion
Massaparquea Dr
Trigger
Race 5 G3 and Lower
Settling Jet ($300,000)
Campador
Brazilian Gold
Race 6 A and Lower
Score's Even ($1M)
Lady Budapest
Jack In My Style
Just Call Me Boss
The 'Sport of Kings' continues on Sunday with the 'Clash of the Titans' at the Port Mourant Turf Club.
Around the Web