Hamza Eastman warmed up nicely for today's finale of the Cheddi Jagan Memorial road race series in Essequibo with a sprint victory yesterday in the National Park.
The Team Coco's wheelsman took the top honors ahead of breakaway mate, Orville Hinds (Team Evolution) in the feature 35-lap event of the second annual Star Party Rental sponsored criterium event.
In warm, breezy conditions at the venue, Eastman, stopped the clock in one hour, 17 minutes and 39 seconds, a bike length ahead of Hinds.
Besides the winner's trophy, the ever-improving rider also took home three of the eight sprint prizes.
Hinds, the co-star of the two man show, carted off the remainder.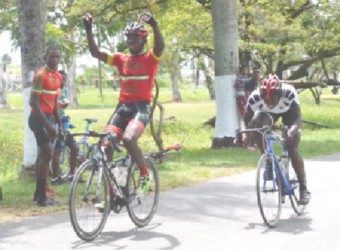 Veteran rider, Robin Persaud was the winner of the bunch sprint and joined the duo on the podium, while United Bikers' Horace Burrowes finished fourth. Last year's winner, Godfrey Pollydore and Hinds' club mate, Marlon 'Fishy' Williams filled out the top six rewarding positions.
After the second lap, it was all Hinds and Eastman. The two national riders caught the peloton napping on their saddles and never relinquished their lead despite the valiant efforts by the numerous chase packs that tried to reconnect. Hinds' and Eastman's team work thwarted any hopes of those in pursuit.
In the final 150m however, Eastman threw team work out the window and attacked Hinds who gave chase. Hinds gained a lot of ground but Eastman, a superior sprinter, was able to hold on for the win. It was his third in 10 starts for the season.
Other winner's yesterday included: Alex Leung (BMX 6-9), Sherwin Sampson
(BMX 9-12 and BMX Boys 12-14), Marica Dick (BMX 12-14 Boys and Girls),
Andrew Hicks (Juveniles 10 laps), Jaikarran Sukhai, (Veterans Under 50), Linden Blackman (Veteran Over 50), Wilfred Thom (Veteran Over 60) and Keon Thomas, (Mountain Bike).
Notes: Eastman is the virtual leader heading into today's third and final leg of the Cheddi Jagan Memorial road race series. He placed first in the initial leg on March 1 at West Demerara and fifth in the second leg in Berbice one week later.
Hinds sits in second overall after winning the penultimate event and finishing sixth in the first.
Today's 60-mile race rolls of at Supenaam at 09:00hrs. A thrilling finale is envisaged
Around the Web